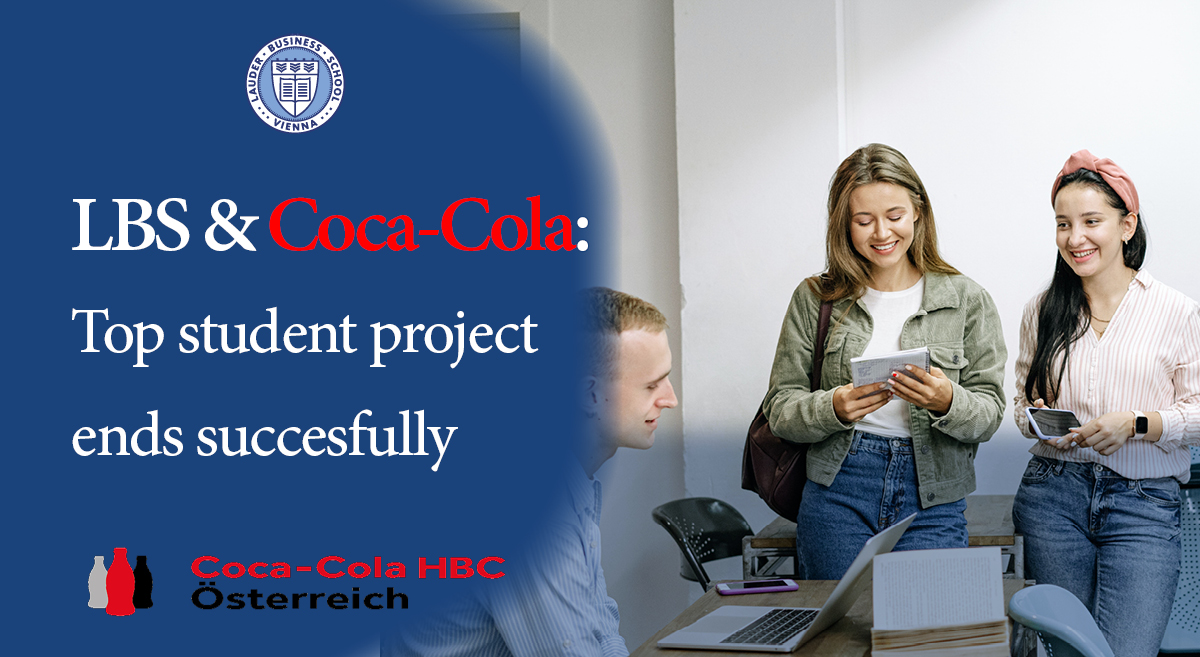 Background photo: Ivan Samkov
Second year LBS Master students successfully completed a Coca-Cola student consultancy project centred around their newest portfolio addition, Hard Seltzer Topo Chico. Distinguished LBS faculty member Dr. Sandra Pauser, M.A., coordinated the project and guided the students through each stage, enabling them to deliver outstanding results and impress the corporate stakeholders. 
In 2020, when Coca-Cola launched its first alcohol-based brand on the Austrian market, they needed to assess the existing market environment in order to understand how to best market their product. Their goals were also to enhance their brand and reach generation Z – and for anyone familiar, they are not an easy generation to impress. Ambitious, tech savvy, and value-conscious, Gen Z is the most racially and ethnically diverse group compared to their millennial counterparts, with an annual spending power estimated at $143 billion. And it takes a lot more than a catchy jingle to get them to spend their money – they affiliate with brands that have a proven track record of social initiatives, inclusivity, and dependability.
What better way to find the right strategies to reach this generation, than to engage our very own Gen Z experts – the LBS Masters students. Eager to get hands-on experience, the team of LBS International Management and Leadership students (IML) supervised by Dr. Pauser assessed the marketing environment for the product category, evaluated the competition, and provided practical strategies for Coca-Cola to reach their target audience. In the end, they presented their key findings and recommendations to Coca-Cola stakeholders, who were very satisfied with their achievements.
"It was a pleasure to guide and supervise students throughout and see their improvements, milestones and achievements," stated Dr. Pauser. Mag. Katharina Rößl, Frontline Activation and Senior Brand Manager at the Coca-Cola Company, expressed her gratitude for our students' work, as well: "Thank you again from my side for the great cooperation this year. I very much enjoyed the presentation by the students."
This cooperation between Coca-Cola Austria & LBS was not a first. In 2019, IML students analysed the state of the eGaming and eSports industries and made recommendations regarding potential strategies and action plans for the Coca-Cola Marketing Team.
We are grateful to Dr. Pauser for continuing to facilitate wonderful projects for our students and are happy to see our students' hard work pay off. We would officially like to extend our appreciation to our project partner, Coca-Cola Austria, for their continued collaboration, and we look forward to working on other exciting projects in the near future!