Thank you for choosing Lauder Business School
We are happy that you have decided to apply for one of our study programs. For a smooth-running application, please read the information on this page carefully.
THERE IS NO POSSIBILITY TO APPLY FOR A SPRING TERM (SOMMERSEMESTER). EACH ACADEMIC YEAR STARTS IN THE FALL. THE ACADEMIC YEAR 2024/25 STARTS ON September 24, 2024.
The LBS has a multi-phase, rolling admission process. Rolling admission process means that we accept applications starting from January 08, 2024, until the deadline, or until all study places are full, respectively.
The process is the same for all applicants:




The Process
How to start – step by step
Please note, it is possible to fail the application process in each stage!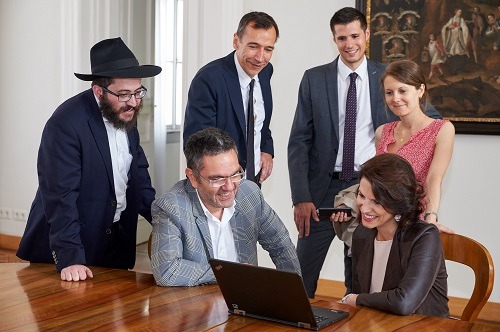 01.
The first step in the admission process is to register online. In order to do so, please click on "Apply Now". You will have to fill in your name and email address. Thereafter, a registration link will be sent to your email which you will have to confirm.
02.
After your registration, you have to fill in your data, upload all required documents and submit your application. Please check on our website which documents are required. Only complete applications can be considered.
– Please check your Spam folder for e-mails from Lauder Business School.
03.
Then the application will be submitted for revision to the Director of Studies. If the application package is complete and has been approved by the Director of Studies (e.g. based on grades in the relevant courses), applicants for the Bachelor in Business Administration will receive an essay question which must be completed within 3 days and submitted for revision. Applicants for one of our Master programs will receive a case study which has to be completed and submitted within 2 days.
Please make sure to be available for at least 4 weeks after submitting your application and check your emails on a daily basis in order to meet the deadlines for the essay / case study which will be sent to you via email!
– Please check your Spam folder for e-mails from Lauder Business School.
04.
If the essay/case study has been evaluated as positive, the applicant moves to the fourth and final stage of the admission process. In the fourth stage, the applicant will be invited to participate in the Assessment interview. (The interview dates are updated regularly). The Assessment interview will be conducted by the Director of Studies and another professor, the participants will be invited to the interview in groups of two. Once the final stage has been mastered, the applicant will be informed of the outcome via e-mail.
– Please check your Spam folder for e-mails from Lauder Business School.