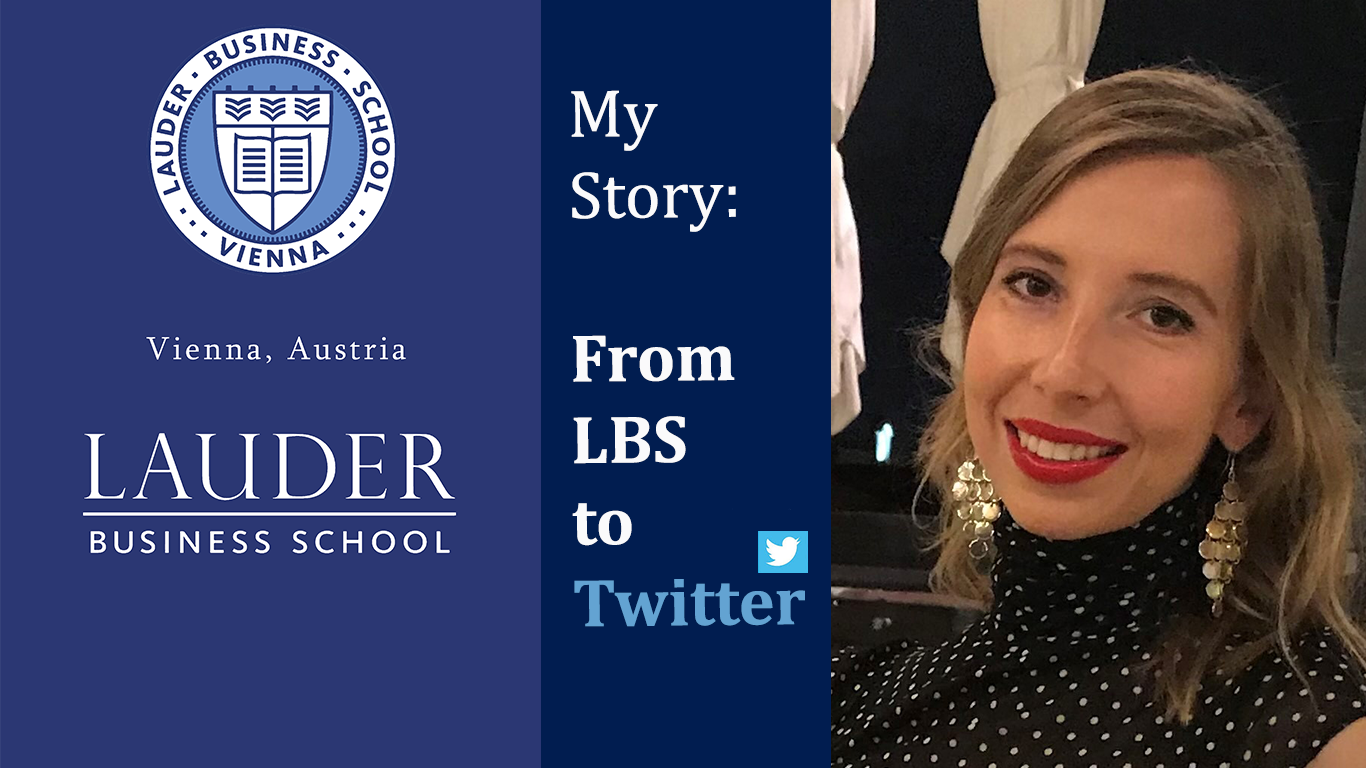 Maria Berkova, Client Partner (Large Client Solutions) at Twitter
Maria Berkova graduated with distinction from Lauder Business School in 2012, with a Masters in Business Administration and Management. She is now a Client Partner (Large Client Solutions) at Twitter and shared with us some highlights of her #LBSexperience and the memories she made here:
"LBS taught me out-of-the-box thinking and the importance of teamwork. It was a real melting pot, with so many cultures, and differences. We were pushed to find out how to work together and benefit from it. LBS also taught me to learn, do research, and source information, as well as to be critical of the data, yet creative in decision-making. All the knowledge I received from LBS was built on practice and real-life examples – I knew I had all the tools to succeed in my career, and more than that, to be successful right after graduation."
After graduation, Maria put the knowledge she gained at LBS to good use – she honed her entrepreneurial spirit co-founding an advertising company in Israel, and then went on to work at one of the most famous Social Media giants, preferred by common folk and presidents alike – Twitter:
"I left for Israel one week after graduation and a few months after I co-founded an ad-tech start-up that was very successful from day one. I worked with some of the biggest clients in the app industry. Eight years later I did a switch in my career and relocated to Ireland to work for Twitter, as a Client Partner. I help large Fintech companies to accelerate their growth with the help of Twitter advertising solutions.
I always loved Twitter as a company – its impact on the world is much greater than its size. Twitter reached out on LinkedIn with the proposed role and I saw it as an amazing opportunity.
The best thing about Twitter is the influence you have as an employee – both in your book of business, as well as the say you have when talking to the management. Twitter is the underdog of the industry – that's why we use a lot of creativity and unconventional approach in creating strategies for our clients. Developing this global state of mind would be your X-factor in your next workplace and job interview, but also a forever sweet memory of the best years of your life."
Maria´s advice for future LBS graduates is to focus on finding what they truly like doing, pin out their desired career path, learn everything about it and take ownership for their learning: "Find what you like doing, understand where you see your career path, and learn everything you can to get you there so you can accelerate the process. LBS gives you so many tools – practice them right away and apply them within your industry framework.
Many past alumni were too worried about LBS ranking in the world. I work with people who finished Wharton, UCLA, Brown, etc. The program they received from their school is not different than that of the LBS. It is what you are able to take from the school. Hold yourself accountable."
In closing, Maria shares that the skills the acquired at LBS did not just help her in her career, but in fact, helped her at a more profound level: "The soft skills I gained during my LBS years can't be appreciated enough. As a fun fact, before I joined LBS I believed I could never marry someone who doesn't speak the same native language as me. Spoiler: I did!"
Alumni like Maria carry the name of Lauder Business School to new professional heights, and it is always rewarding for us to see them impacting their communities and bringing a meaningful contribution to their chosen professional field.