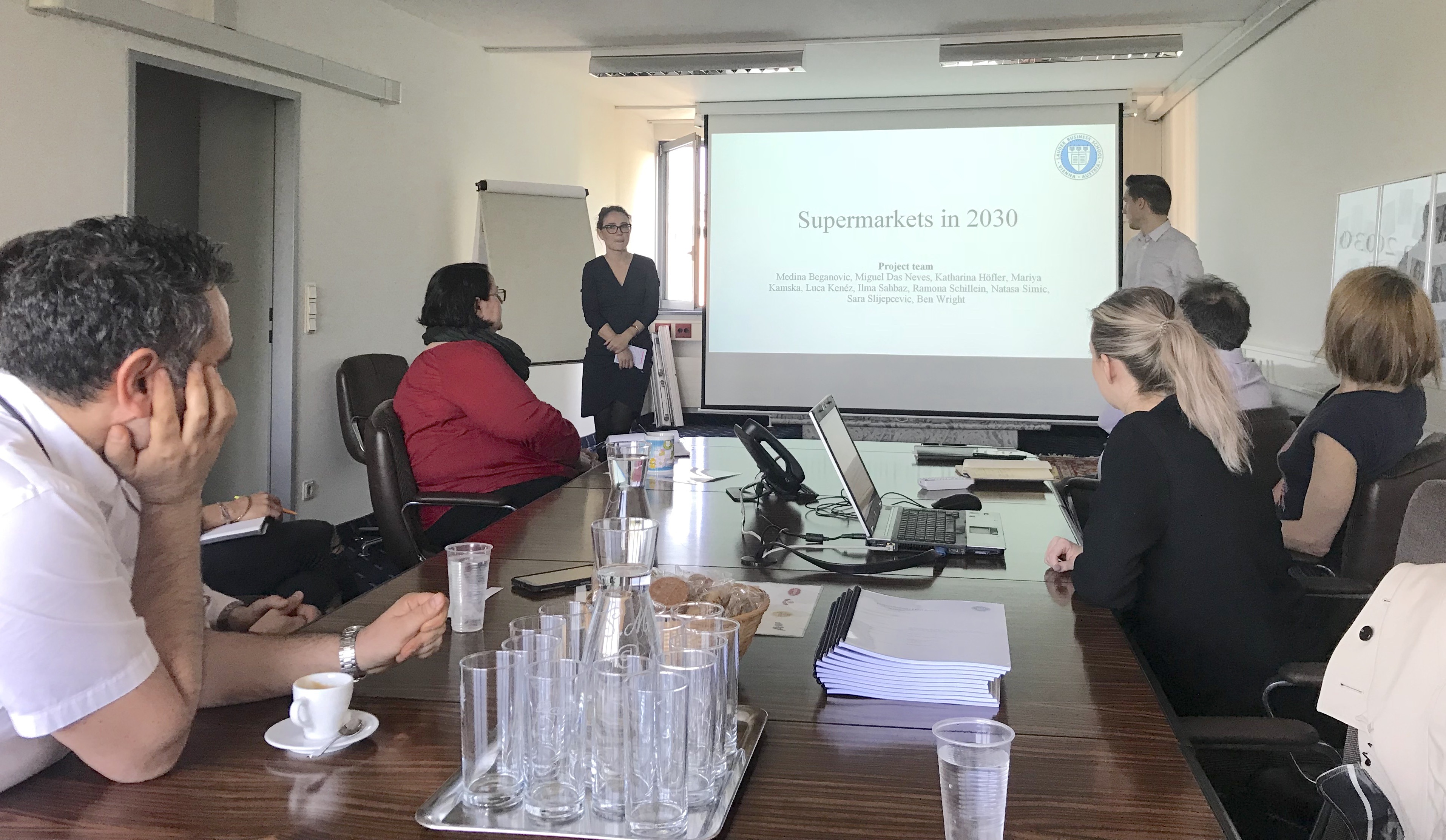 Winkelbauer GmbH, an Austrian medium-size company which specializes in distributing premium international nutrition brands in Austria, requested support of the Lauder Business School to analyze the development of retailable produce in Austria. Winkelbauer GmbH would like to include the findings and results of this project in their future marketing concepts.
As part of the ongoing Student Consultancy Project, the customer would like to receive answers to the following questions:
Which products will the supermarkets need in the year 2030?
Where do supermarket(concept)s develop to and what type of products will that require?
How will the product landscape have changed?
Where will/could the product landscape develop to?
Which products will be requested by customers (fresh, convenience, types/forms of packaging, on the go, etc.)?
Final adaptations as to the specific project goal will be made as the project advances, however, at the end of the project the client expects a concept that can be used for the development of their future product range.
KEY FACTS
Project title: The product landscape of the 2030 supermarket
Principal investigator: Prof. (FH) Mag. Julius Dem, MBA
Collaborators: IML 2016 Students – Medina Beganovic, Miguel Das Neves, Katharina Höfler, Mariya Kamska, Luca Kenéz, Ilma Sahbaz, Ramona Schillein, Natasa Simic, Sara Slijepcevic, Ben Wright
Client/cooperation partner: Winkelbauer GmbH
Duration: October 2017 – May 2018
Research methods
With the objective of defining the future product landscape general, a set of recommendations is identified. Mainly desktop research was applied. Furthermore, a survey was conducted, to find out about consumer preferences, needs and future trends concerning the supermarkets in 2030.
Outcome
After sic months of working on the project, the following outcomes were reached:
Demographics change: households are becoming smaller, residing in urban areas, with a decrease in storage space and therefore asks for smaller but more frequent shopping.
There is an increase in the demand of organic products.
The relationship between buyers and manufacturers shifted from a transaction-based relationship to a participatory relationship and the buyer engagement will develop further.
Buyers are more conscious when making purchase decisions and detailed information about products become more important. Transparency is an important issue.
Millennials favour supermarket online stores, with a home delivery service.
There is an increased interest in the delivery of fresh food which is ready to be cooked.
There will be an increased presence of technology used in the supermarkets, but traditional shopping possibilities are still relevant for customers.
As part of a final presentation, the project report was handed over to the CEO and the marketing team of Winkelbauer GmbH. The set of measures, as outlined above, was very well received by the client. Winkelbauer's marketing department thanked the LBS team for their informative and helpful presentation.