Project title: GAEA – a brand analysis
Principal investigator: Prof. (FH) Mag. Julius Dem, MBA
Collaborators: IML 2014 Students
Client/cooperation partner: Winkelbauer GmbH (www.delikat-essen.at)
Duration: October 2015 – May 2016
[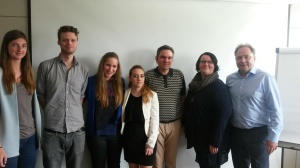 From left to right: Sonja Murauer (Winkelbauer GmbH), Gideon Thür (IML 2014), Ronit Lang (IML 2014), Sanya Gamidova (IML 2014), Prof. Julius Dem (Director of Studies IBA), Nicole Hofinger (Winkelbauer GmbH), Hannes Winkelbauer (CEO Winkelbauer GmbH)[/caption]
Objectives of the project
Winkelbauer GmbH is an Austrian medium-sized company that distributes premium international nutrition brands in Austria. Lauder Business School was contacted by the company to deliver support for marketing analysis, as well as related recommendations for GAEA products, which are distributed by Winkelbauer GmbH in Austria. GAEA is a company that sells products made in Greece such as various types of olive oils and olives.
Especially after the brand relaunch of GAEA in 2014, Winkelbauer GmbH was expecting some significant improvements in the sales of products, but unfortunately, the outcome was not satisfactory. Therefore, in order to understand the root problems behind the situation, the project team was provided with a case study on GAEA's olive oil products. The main objective was to analyze consumer behavior patterns towards GAEA olive oil and to generate effective recommendations via conducting marketing research.
Research methods
A qualitative research method was chosen to reflect the information concerning customer attitudes, preferences, and incentives that affect their purchasing behavior. Based on this approach, 30 in-depth interviews were conducted in a face-to-face environment where the respondents had the opportunity to taste and evaluate GAEA olive oil. Those interviews provided up-to-date data on customer preferences in Austria while buying olive oil. In addition, secondary data on the Austrian food industry were collected and analyzed, in order to establish a good understanding of existing market conditions and trends.
Outcome
The analysis of the marketing research provided the company a review of customer preferences while deciding on whether to buy GAEA olive oil based on three major dimensions: price, packaging and taste. The responses received lead the project team to conclude that GAEA relaunch was not supported with sufficient activities on building brand awareness.
Based on the research findings, Winkelbauer GmbH was presented with a set of recommendations for promotion with Austrian retailers, promotion through special events, digital marketing, advertising in the entertainment sector, and further packaging design ideas that could enhance the brand awareness.
Story-telling packaging was one of the recommendations that the company liked the most. The idea was to design a card with stories and facts about olive products and the company itself, as well as short recipes that use GAEA's olive oil. The designed card would be enclosed in the packages of the olive oil bottles.
Another recommendation made by the students was to develop small samples of the product, so the customers can take them home and try the product with their own recipes.
Many of the ideas were gladly welcomed by the company and will be included in future projects related to the product.
As part of a final presentation, the project report was handed over to the CEO and the marketing team of Winkelbauer GmbH. The set of measures, as outlined above, was very well received by the client. Winkelbauer's marketing department thanked the PBL team for their informative and helpful presentation.