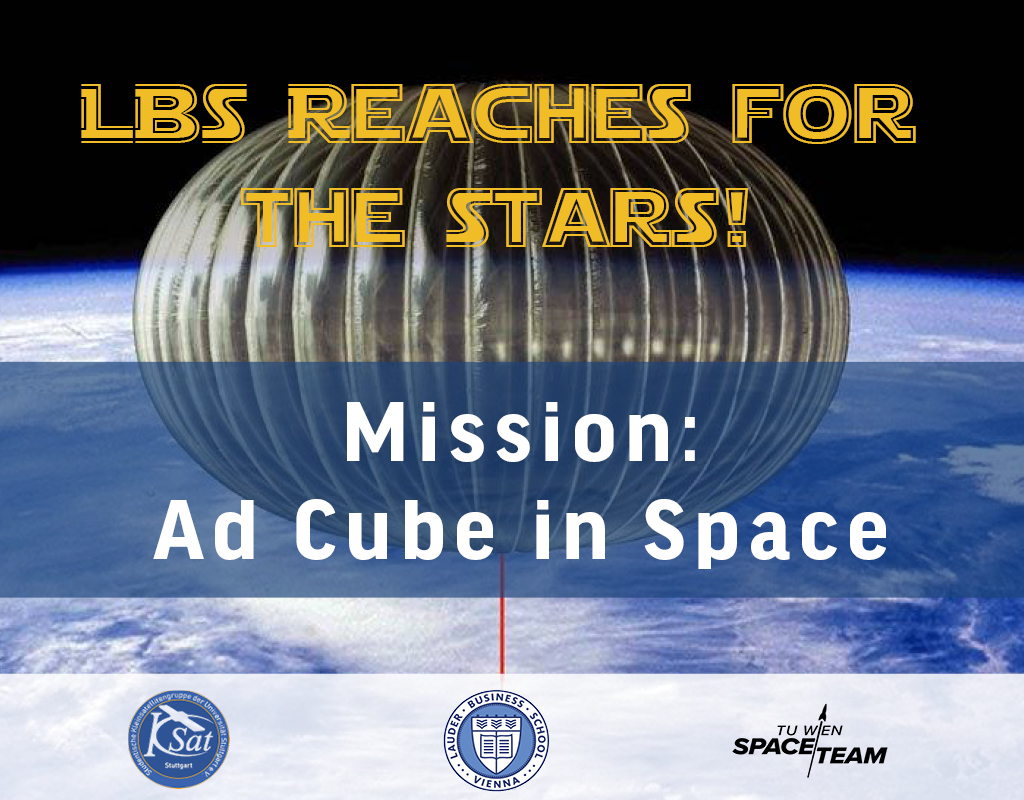 Background Photo Source: NASA 
Lauder Business School partners with the TU Wien Space Team and K-Sat Stuttgart for a one-of-a-kind interdisciplinary project that takes business to a whole new (atmospheric) level: the stratosphere!
This project, a unique combination of scientific, engineering and business acumen, represents a strategic inter-disciplinary approach to long-term sustainable development projects. It will not only be an engineering marvel, but a business one, as well, as it will test an entirely new concept of advertising – at the edge of space.
LBS and its partners will test a weather balloon carrying a cube satellite built by the TU Wien Space Team in a high-altitude flight. It´s mission? To gather data like CO2 levels, moisture and temperature at different flight levels. The data will be sent to the Central Institution for Meteorology and Geodynamics (ZAMG), but will also analysed by the technical, engineering and business teams of the partnering institutions with a view to further develop their long-term sustainability efforts and pave a common path towards a greener future.
The flight, operated by the K-Sat Stuttgart team and scheduled for late summer 2022, is part of an exciting two-day event that will rival the launching of Apollo 11! A handful of students, professors, and selected business representatives will be treated to a trip to Stuttgart to witness the pre-flight testing and the weather balloon's live debut first-hand.
Four green-minded companies, chosen by an LBS panel of students for their strong commitment to sustainability, will have the chance to advertise their company on the gear. To secure a spot, the companies will need to present their work and convince the student panel of their mission for building a greener future. Once selected, will also have to pay a fee of €2.000.
Call for submissions will request all participants willing to compete for the four available advertising slots to submit their applications by May 15th. The panel of international LBS students will assess the way businesses meet environmental, social and governance targets and invest in sustainable projects that make our economy and society as a whole more resilient against environmental crises. The winners will be announced on June 1st.
LBS involvement comes as an expansion of its green course portfolio, successfully launched at the beginning of this academic year. Professor (FH) Ing. Mag. Robert Kotal CFP ®EFA®, Lauder Business School´s driving force behind the project, introduces it as part of his LBS course, Internet of Things in Business – Future Trail, and states that "the inter-academic project represents a first step, one of many, towards positive change. It showcases the way businesses and institutions can re-align their business and work models to prioritise collaboration to support a common goal: sustainable growth at an environmental, economic and social level."
On  April 5th, Prof. (FH) Kotal, joined by a delegation from TU Wien Space Team, represented by president Patrick Enzensberger, and Mr. David Wagner (Technical Lead CubeSat Mission STS1), and online by a K-Sat team, will formally present the LBS Strato-flight project to all interested students and selected business guests. Mag. Florian Schirg, incubator of the Entrepreneurship Center Network (ECN) will deliver the keynote address.
Next year, we´re aiming for the Moon!