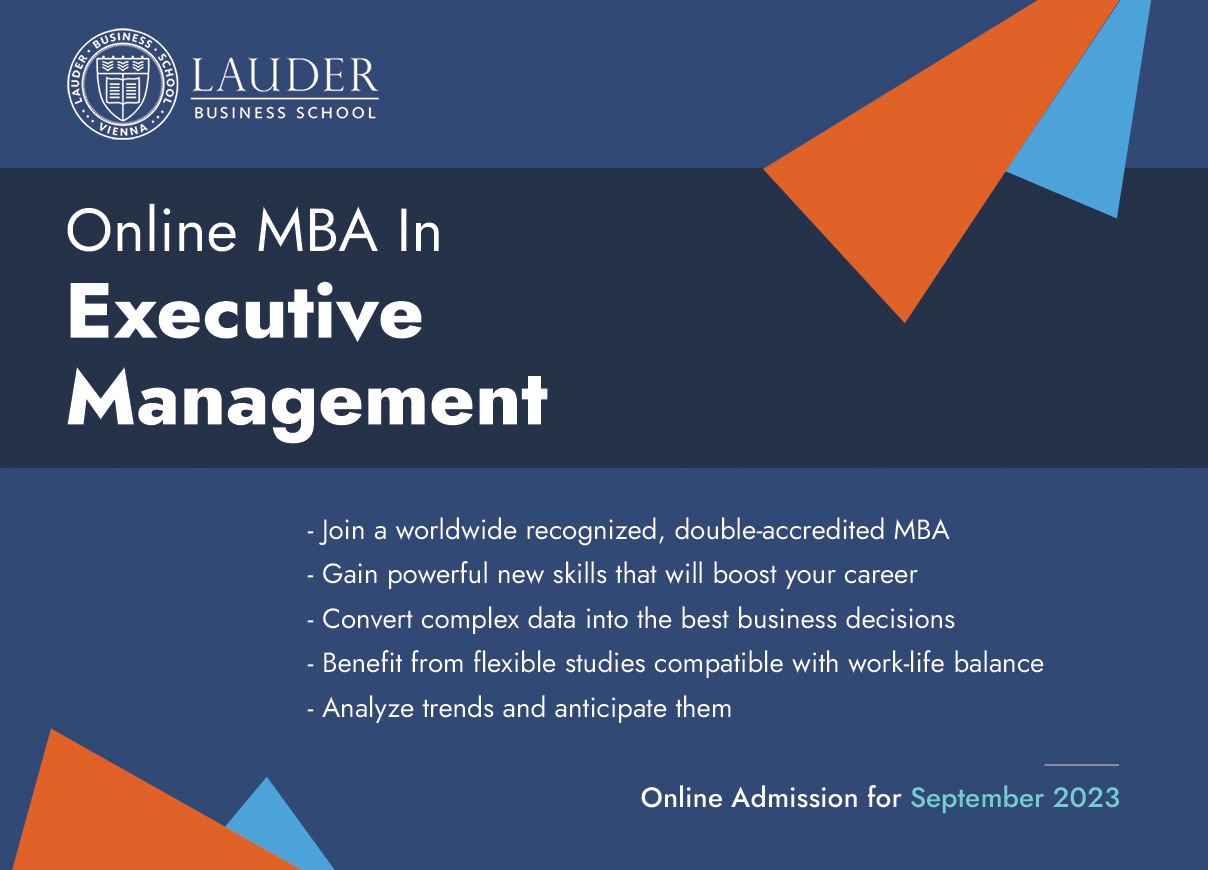 Lauder Business School expands its study programs with an online MBA
After receiving the ACBSP – American accreditation last year, Lauder Business School has even more breaking news: LBS is expanding its study programs with an online MBA in Executive Management. Starting in September 2023, working professionals who want to enhance their skills and fast-track their careers to new professional heights will have the chance to participate in the two-year online MBA program and choose one of two majoring options: Green & Sustainable Business Management or International & Digital Marketing.
Devised with the working professional in mind and featuring a unique mixture of professionally recorded webinars and live zoom sessions, the LBS online MBA aims to empower the experienced, fully employed professional to embark on this new educational journey without sacrificing personal commitments or drastically altering their working schedule.
The MBA curriculum is unique and diverse in its structure: it is centred on real-world practice and taught by active professionals, entrepreneurs, and leaders in their own right with an impressive track record of accomplishments. With them, LBS MBA students will become part of a wider network and a community that will support their career goals with quality mentorship, best practices, and professional insights. From them, students will learn by using real-life, practical examples and by analyzing the defining challenges of our time, such as financial stability, post-pandemic and post-war economic recovery, and economic sustainability.
Regardless of their educational background, qualified working professionals with 2-3 years of experience will be able to enroll and access classes as diverse as economic decision-making, business analysis, leadership skills, agile methods, business strategy, and consulting. Classes are structured around acquiring practical know-how and training resilience: the knowledge and skills gained during class are immediately applicable to existing works projects.
At the end of two intense years, students will be equipped to both anticipate problems and to face them prepared – make assessments, measure fall out, and formulate strategies. In addition, future MBA students will have experience with modern practical tools such as SAP and Bloomberg and use it for later certification.
Compared to other MBA programs on the market, the LBS online MBA program delivers excellence at a competitive cost: the tuition fee for the entire two-year program is €9900. For anyone interested in further information about the program and its curriculum, head over to our online MBA page. If we´ve convinced you already, apply here.