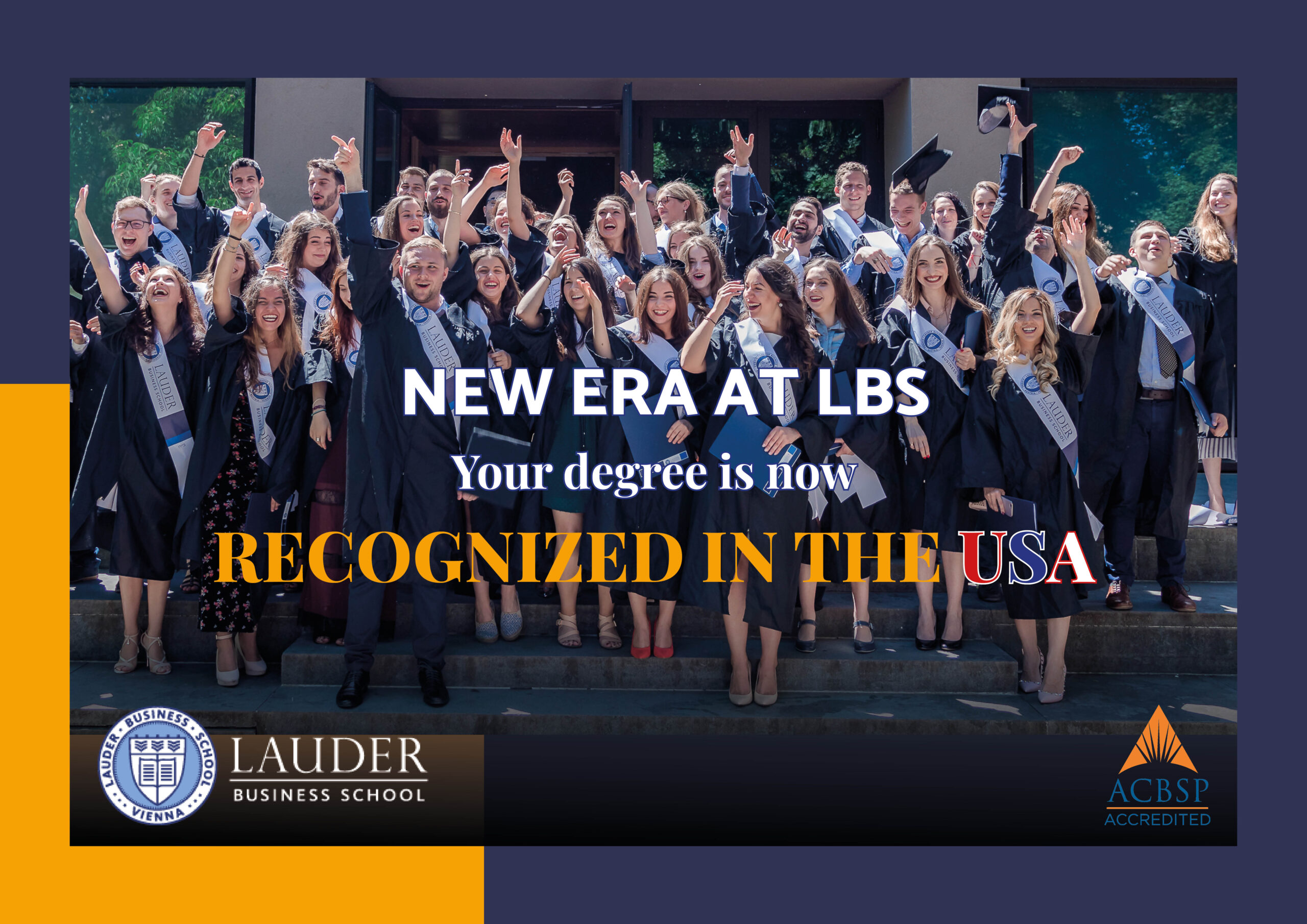 At the end of last week, Lauder Business School was officially granted the ACBSP accreditation!
This means that all future LBS graduates, as well as students who graduated after December 2018, will benefit from a recognition of their LBS diploma in the USA.
The ACBSP recognition is an honour that catapults Lauder Business School further into a new era, but it is not an end in itself. It places a greater responsibility on our side to live by a high standard of excellence and innovation.
Founded in 1988, the Accreditation Council for Business Schools and Programs (ACBSP) is a global business education accrediting body and offers accreditation to all levels of collegiate business educational degree programs including Bachelor and Master's programs.
LBS started the rigorous accreditation process four years ago, procedure that was exemplary managed by LBS´ own Quality Manager, Birgit Wakonig, BSc, MSc. The accreditation's aim is to distinguish business programs across the globe, and to assess whether or not business programs offer a valuable and substantive educational experience worthy of international recognition.
The criteria against which we were measured included markers like the quality of our program´s aspects of leadership, strategic planning, relationships with our stakeholders (students, alumni and authorities alike), curricula, faculty credentials, and educational support. With the participation of students, staff and alumni, the committee was able to get a glimpse of the LBS academic life and gather first-hand evidence about the way LBS´ student-centred teaching properly equips its graduates for the current job market.
There was unanimity amongst alumni that they received distinct preparation from their undergraduate and graduate programmes. All interviewees recognised the diversity, autonomy and strength of the curriculum and the quality of the academic and administrative staff. The achievements of our students and alumni testified to LBS´ academic rigour. Through its documented systemic approach to analyse critical impediments and implement responsive interventions, LBS proved its commitment to continuous quality improvement. The concluding remarks pointed to strengths of the curriculum and LBS´ receptivity in addressing areas where further improvement would be appropriate.
Apart from global acknowledgement, the accreditation will also offer honours society recognition for eminent students, the possibility to obtain funding for international conference attendance, and ample networking chances for all LBS students and staff.