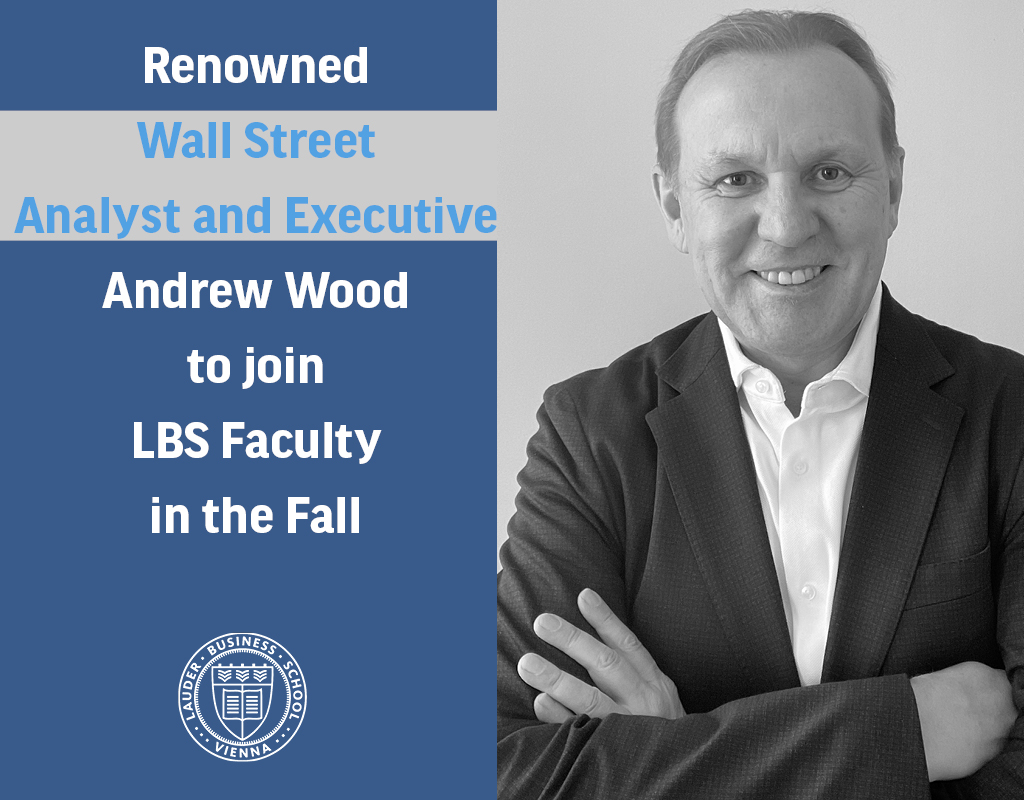 We are excited to announce that world-renowned multiple award-winning Equity Research Analyst, Andrew Wood, BSc (Econ), ACA, will be joining the LBS faculty this coming fall as part of our Strategic Finance & Business Analytics master program.
Mr. Wood spent many years as a C-level executive in Food & Beverage Companies before becoming a Wall Street Equity Analyst at the highly regarded research company, Bernstein Research. In his over 19 years of experience in New York and Singapore, he and his team published over 3,000 research notes, including the renowned Bernstein "Black Books".
Mr. Wood received numerous awards, including the industry prestigious "Best European Research Analyst" (across all countries and all sectors) at the annual Extel Awards ("The City Oscars"), on 10 occasions between 2005-2015.
At the annual Institutional Investor Awards, Mr Wood won the award as "Best European Food Analyst" on 15 occasions, between 2004-2019 and was the 9 nine times winner of the "Best European Household & Personal Care Analyst" between 2009-2019.
In 2016, Mr. Wood was recognized as the most successful ever European Equity Research Analyst in the 25-year history of Institutional Investor as part of their anniversary awards.
We had a chance to sit down with Mr. Wood and get his thoughts on the current trends in business education, and his advice for the business students who want to follow a career in equity research and international business.
LBS: Mr. Wood, you´ve had an impressive career in international business and on Wall Street, and your career accomplishments are awe-inspiring for our students. Moreover, you´ve worked for years in cities that top the list as the most economically influential cities in the world. What made you decide to make the switch to teaching?
AW: Firstly, thank you for your very kind comments. I am delighted and excited to be joining the faculty at Lauder Business School.
Regarding the switch to teaching, there are two reasons really…
Firstly, I have always had a passion for teaching. In most of my professional roles there has been a direct or indirect focus on teaching or the transfer of experience. It started with the first company I ever worked for, PricewaterhouseCoopers, where I was invited to work in the National Training Office in London. I worked in a small team developing and presenting new training courses for graduate recruits, and I found the work thrilling and very rewarding. And the focus on "teaching" continued to my final professional role on Wall Street: Equity Analysts spend a lot of time sharing knowledge about their area of expertise (in my case, Consumer Staples companies) with investors, through numerous meetings, seminars and conferences. Once again, this was once of the most enjoyable parts of the role to me.
Secondly, I consider that I have been extremely lucky over my academic and professional career, being taught and/or mentored by some amazing people. When I retired from Wall Street, I really wanted to find a way to pass on my accumulated knowledge and experience, and I also wanted to find a small and personal way to have a positive impact on our community and society. I consider that teaching future business and community leaders at a high-quality Business School (like LBS) was absolutely the best way to achieve that goal.
LBS: What do you think the education in the business field lacks today, and how can this educational gap be closed, in your opinion?
AW: Without any doubt, business education requires more pragmatic, real-life experience. That is what I love about the faculty at Lauder Business School…it is full of professionals, with years of experience in their fields, who bring this experience for the benefits of the students. Over many years on Wall Street I had a number of team members who had been through MBA programmes, mostly in the US. Without exception they told me that their favourite (and most useful) courses as part of the MBA programme were the those given by practitioners…not by academics. I am hopeful that my practical experiences will make my course interesting and useful for the students at LBS.
LBS: You are a stellar analyst, with unparalleled, years-long experience in the Food and HPC sectors. What strategies did you use in your work to guarantee long-term success for your clients?
AW: Curiously, the answer is actually in your question: focus on the long-term. Unfortunately, the asset management industry has increasingly become focused on short-term performance, with investors/mangers wanting to be "heroes" focused on the next stock spike (or collapse) or potential company takeovers. However, my experience is that the very best asset managers (and I have been fortunate to meet many) are serious, fundamental, medium-to-long term focused investors.
At a personal level, a lot of my work was focused on my long-term investment framework for Consumer Staples companies, which I termed my "4 Pillars of Success" and I look forward to sharing this with my students during the course.
LBS: For students who want to choose the same career path as you did, what would you recommend? What would make their application stand out? What would you look for in a potential employee?
AW: I think my career path (Professional Accounting/Auditing, Food & Beverage Company Management, Equity Research and now Teaching) has been quite unique, and I am not sure I would suggest that students follow it specifically. However, I suppose my over-riding advice is that a 30-40 year professional career is a very long time, and that gives us time to do many things.
My view is that students should be flexible and adventurous; they should do things that are challenging and enjoyable…and not just take the easy option. When I left the Food & Beverage Industry, I did have an excellent offer from a highly prestigious beverage company in London but decided to pursue something completely different and challenging, and to move into Equity Research in New York. It was a big risk, and some of my colleagues did not understand it…but it proved to be the best professional decision of my career.
On the second part of your question: what do I look for in a potential employee? My list of required attributes for candidates to work in my team was long…but 5 that immediately come to mind are: a passion for the role/industry (if you do not like the job, it makes it much more difficult to succeed), being smart (not just academically, but pragmatically), an extremely strong work ethic (only a very few very lucky individuals can be successful in their careers without making significant efforts, even if they are smart), a good team player (my view is that 1+1>2 in almost all circumstances) and strong communication skills (especially in equity research). But give me some more time and space…and I can easily discuss five more!
LBS: Lastly, can you give us some tips and tricks on how to invest well?
AW: Well, my first tip is to attend my course! Hopefully, I will pass on some good ideas there.
However, to share some ideas with you today, I would say that the most important tip is to know exactly why you are investing and what risks you are prepared to take. For which person, for what aim and over what timeframe are you investing…and how much are you (or they) really prepared to lose if things go badly, which hopefully they will not, but you need to be prepared. Only when you understand this will you invest appropriately.
Other tips are included in some of my answers earlier…
– Know and understand the asset in which you are going to invest…which requires hard work and comprehensive research. Many other investors are trying to make the same investment gains as you and are working extremely hard, too. So, if a stock looks cheap, always consider what you might be missing, or what others might be seeing that you do not.
– Develop an investment framework that you know and trust…and follow it. The framework can always be updated and improved…but should very rarely (or possibly never) be ignored.
– Always try to focus on the medium-to-long term. Unless you want to be a trader (and I have also met some very smart traders), not an investor, do not chase being a short term "hero". However, that does not mean investors should ignore short-term news flow…the skill is identifying developments that support (or break) a long-term investment thesis.
– Finally, be humble. Every investor makes mistakes. Nobody gets 100% of their investments correct. The skill is to learn from the mistakes and, ultimately, to ensure that investment successes outweigh the failures.
LBS: Thank you, Mr. Wood, for your time, and for sharing with us your thoughts and insights. A very warm welcome to Lauder Business School!