We are proud to announce that our International Management and Leadership (IML) master student Ms. Anne Twombly (USA) was awarded the first prize at the 9th Peter Drucker Forum in the student division. The forum took place in November 16-17, 2017, in Vienna at the Aula der Wissenschaften. The 2017 Peter Drucker Challenge Essay Contest had the topic "Human Prosperity in a Changing World" and has been record-breaking in terms of participation – 422 submissions from 79 countries.
Anne Twombly's essay with the title "Antiquated Innovation: a Grandmother's Path to Inclusive Prosperity" was selected among the many and awarded with the first prize in the students' category. In her essay she looks at challenges of the modern world and at antiquated techniques that, when combined with modern technology, can present possible solutions and a roadway to "inclusive prosperity".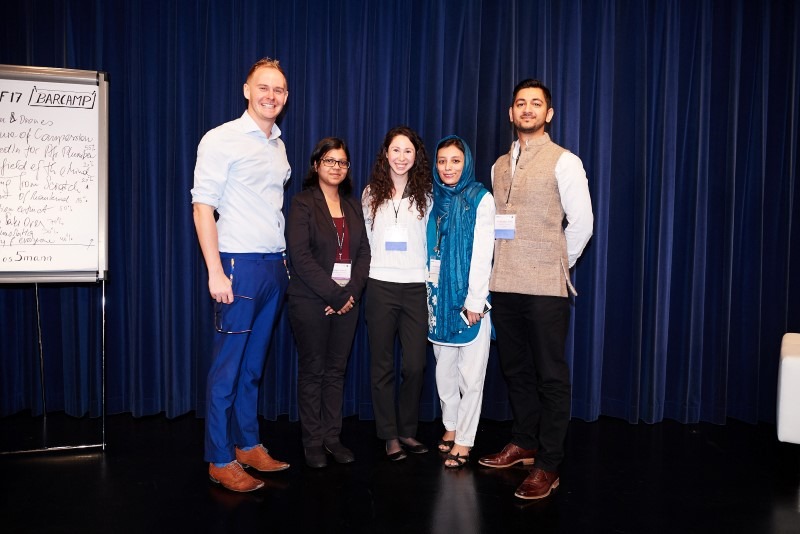 Credits: Global Peter Drucker Forum 2017
"This award was my welcome to Vienna, and welcome to Business. It made me aware that even though I have the title of student, professionals and academics from all over the world are interested in what I have to say.", Anne explains. Previously from the NGO sector, Anne continues to seek different perspectives by which to understand the world.
As for the prizes of the Drucker Challenge, the winners are awarded 1000 euros, free participation in the next Peter Drucker Forum, free travel and lodging, the opportunity to publish essays on the Drucker Forum's blog, and a one year subscription to Harvard Business Review. Anne has used this opportunity and is also having her impressions published on the Drucker Forum months after the conference. Her latest contribution is on competition in business: "We can make competition extinct".
We congratulate Anne on her achievement and encourage Lauder Business School students to participate in the Peter Drucker Challenge in 2018!