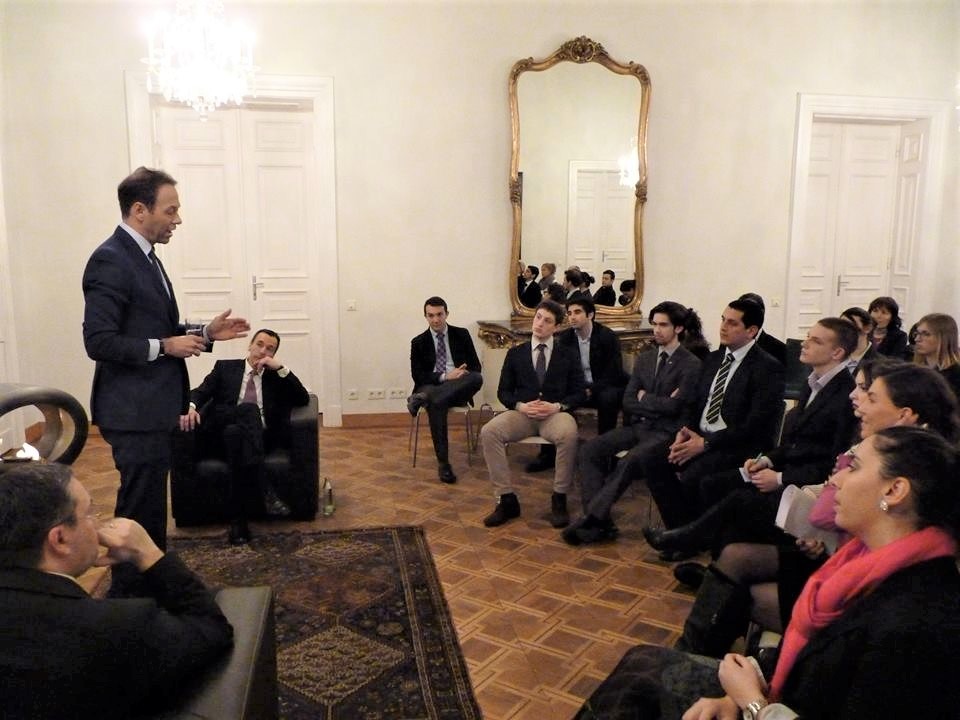 Dr. Andreas Brandstetter, the CEO of the International Insurance Group – UNIQA, honored us with his presence in the first event of the 'fireplace talks'.
Lauder Business School Placement Center had the honour of welcoming Dr. Andreas Brandstetter, CEO of the UNIQA Group, to kick off the first talk of a series of interactive presentations, called 'fireplace talks'. The Uniqua Group is one of the leading insurance groups in several markets in Austria and Central and Eastern Europe (CEE).
The LBS Alumni and faculty members, participating in this talk, were introduced by Dr. Brandstetter to two topics; 'the challenges faced in today's globalized world' and 'key factors of business' success'. A vibrant and interactive talk emerged with Dr. Brandstetter due to many questions posed by the audience.
Afterwards the event received superb acclaim from both Dr. Branstetter and LBS students and alumni. LBS Placement Center is looking forward to building future corporations with the UNIQA Insurance Group aiming at creating possible job and intern opportunities for LBS Graduates.
To learn more about Dr. Andreas Brandstetter, CEO of the UNIQA Group, please visit the following link:
http://www.uniqagroup.com/gruppe/
Coming next…
We are proud to announce that the second event in our series of 'fireplace talks', LBS Placement Center will host Mr. Walter Becvar, Managing Partner at the International Group Odgers Berndtson.
This meeting is a unique opportunity for top Graduates and Alumni with career interest in Austria, to meet with Mr. Becvar, one of the leaders of an International Recruiting/Headhunting Corporation in Austria, specialized in the recruitment of employees for top positions in a wide variety of business areas and support of international groups as well as national companies in all matters of Human Resources (Scouts).
Participation in this talk is limited to LBS soon to be graduate students from Bachelor and Master Program, and LBS Alumni. Participants will have the opportunity to meet personally with Mr. Becvar and discuss with him about possible job opportunities for graduates in Austria.
More information regarding this talk will be send via e-mail to our eligible students and alumni in the following days.
In the meanwhile, please visit the following link http://www.odgersberndtson.com/en/our-team/consultant/walter-becvar/ to learn more about Mr. Becvar and his career development.