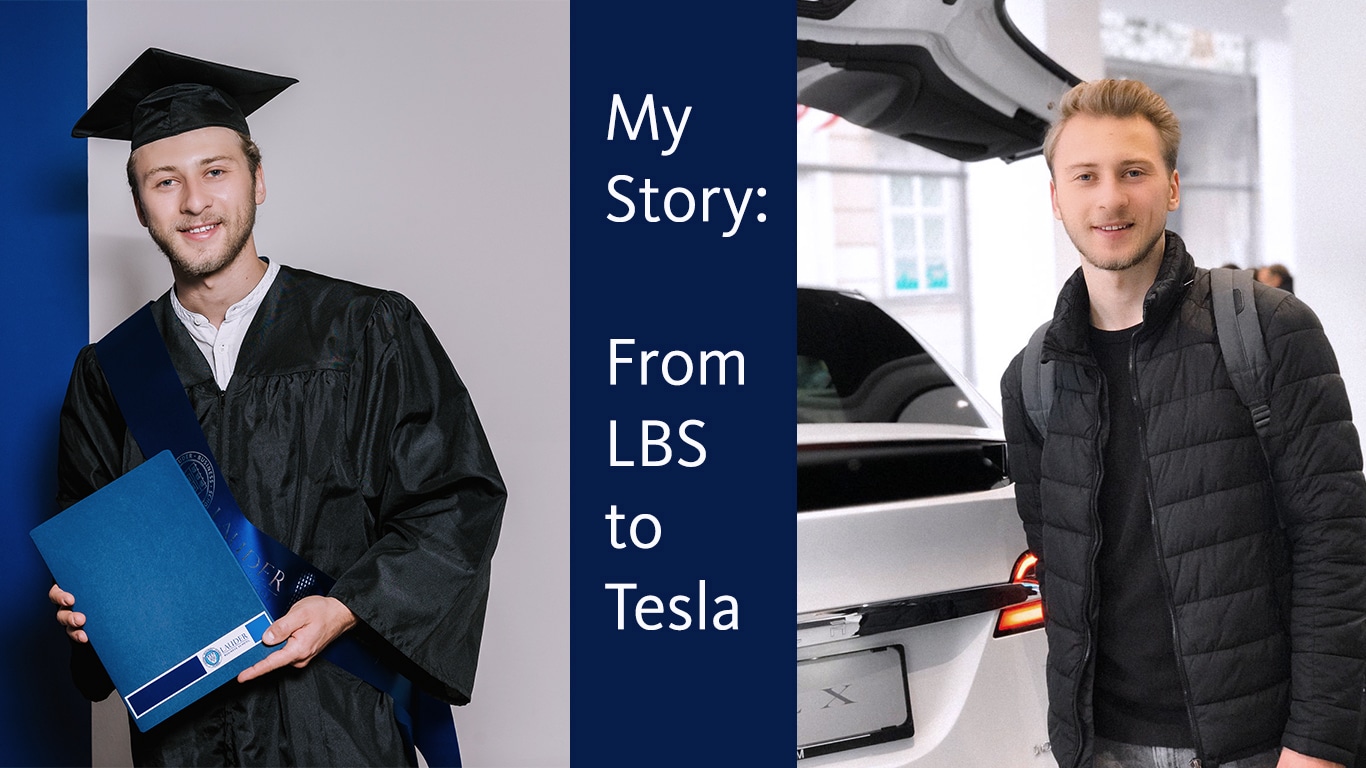 Yaroslav Shymanskyi, LBS Class of 2020, Parts Advisor at Tesla
The previous year, marked by the Covid-19 outbreak, has been challenging for our students and recent graduates not just in terms of switching completely to online learning, but even more so in terms of finding full-time employment.
Still, we are very proud to announce that 2/3 of our Master Class of 2020 already held part-time or full-time jobs during their graduation in September 2020. We are extremely proud to present one of these success stories – the story of Yaroslav Shymanskyi, who finished both his Bachelor's and his Master's at Lauder Business School and was recently hired by Tesla as Parts Advisor! Being Ukrainian himself, he also had to go through the process of obtaining a work permit as many of our students and graduates.
Here his story:
How did you end up at Tesla and what are you most looking forward to?
It has been actually surprising for me to end up at Tesla. I had an opportunity to gain experience in the automotive industry before and I guess this is exactly what got me to Tesla. For the time being, I am looking forward to building a long-term career and taking all possible action to make the successful Tesla even more successful.
What did you learn at LBS that will help you at your work?
In my case, my job has a lot to do with supply chain management and at the university we had many related courses (i.e., operations management, business & quality management) which have given me a wide understanding of the processes flowing within the supply chain.
What helped you most when applying for jobs?
You have just got to have willpower not to give up when looking and applying for jobs, especially in the times when you get an enormous number of emails with "unfortunately, we have to inform you…" We need to remember that who searches, finds. You can't simply give up if something doesn't go the way you want.
In what way has LBS influenced your career path?
The professors at LBS encouraged us to gain practical experience in the areas that we were studying, that includes different internships, projects within LBS, etc. For instance, we had projects cooperating with Breitspur Planungsgesellschaft (BPG) and Coca Cola Austria, which helped us to see the practical use of the knowledge that we gathered. In plain English, when studying at LBS, it is mostly about connecting theory to the practice.
What advice would you give to the graduates that finished/will finish their studies during the corona outbreak?
Get as much practical experience as possible (projects at school, internships, part-time jobs, etc.). Keep your eyes and ears open to current trends because companies constantly look for alternative ways of expanding their business activities. Build up your network in LinkedIn, Xing, and other alternatives as much as you can. By expanding your network, you broaden your horizons and find more employment opportunities.
Describe in one word/short phrase your LBS experience:
To describe my experience in one word or short phrase is difficult. There are many things that I can enumerate. LBS experience has been enlightening, transformative, challenging and diverse. At LBS you understand that the knowledge that you obtain enriches your success story.
Your best memory from studying at LBS:
There were so many unforgettable moments from studying at LBS. I completed a bachelor's and master's degree at LBS and each year was special for me. In a culturally diverse setting you do not have boring days!