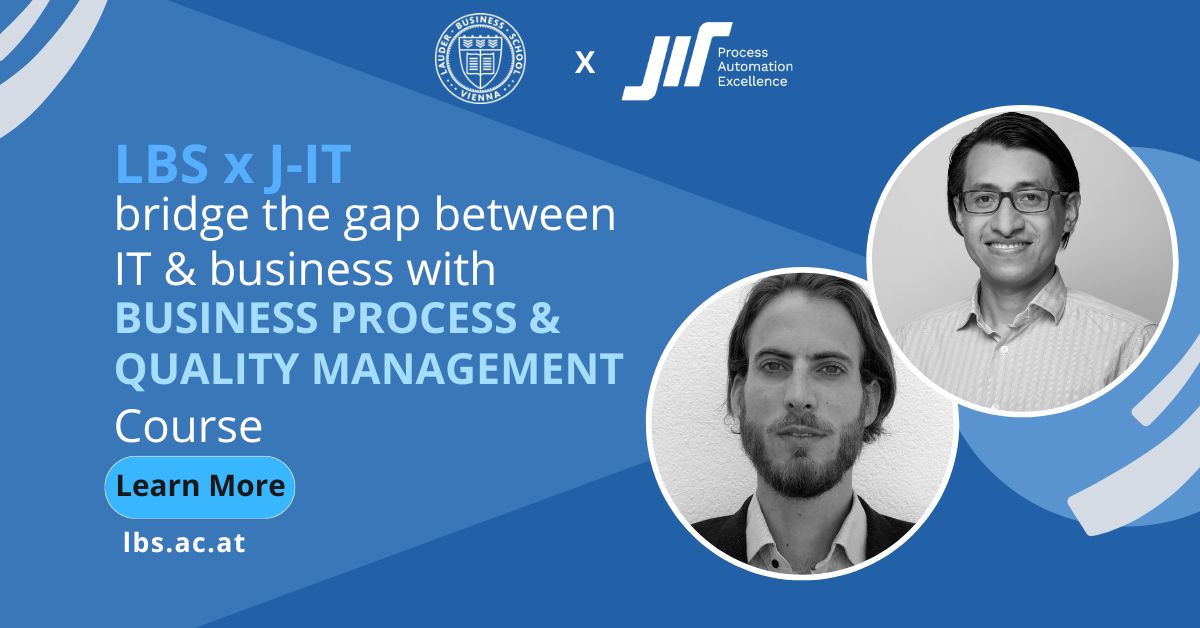 Lauder Business School and JIT partnered to offer "Business Process and Quality Management" courses to the master´s students in the International Management and Leadership program. The course is part of LBS´ strategy to uphold its commitment to teaching STEM (science, technology, engineering, and mathematics) courses and integrate strategies to prepare our students for success in the business world.
Business processes and quality management strategies form the foundation of a successful organization because they can either sustain or end the organization´s lifecycle. Faulty business processes lie at the core of poor business performance, affecting not just the key performance indicators such as the return on investment, cost reduction, and quality of services, but also the level of employee performance. There is no one better equipped to teach business optimization and quality management strategies to our students than two seasoned industry practitioners helping companies of all sizes and industries to optimize their business processes and to implement and maintain their quality management systems.
Prof. (FH) Gerardo Manzano, BSc, MSc. and Prof. (FH) Thomas Faistauer, the two lecturers of the "Business Process and Quality Management" course, bring their best practices and time-tested strategies to enhance the LBS curriculum. Employed as Lead Business Process Engineer (Prof. Manzano) and as a software engineer (Prof. Faistauer) at JIT GmbH, they have consistently helped companies undergo a digital transformation of their processes through design, automation or optimization. They combine their mentoring qualities to provide our master´s students with the knowledge and skills necessary to understand the business process management lifecycle and identify and provide solutions to real-life case studies.
LBS students gain first-hand insights into the challenges and opportunities of applying business process and quality management in the various industries in which Thomas and Gerardo have worked over the years such as retail, banking, and insurance. "Our extensive experience acquired by working with clients from different industries helps us give the students the essential competencies required and sought after in the modern-day markets. At JIT, it is our mission to power business process initiatives and to power the enablers behind those initiatives," state the two lecturers. This practical approach ensures that all LBS students not only learn to grasp the concepts at a theoretical level but also develop the skills needed to apply their knowledge in real-world scenarios.
The curriculum is complex and offers a comprehensive approach to processes and quality management: "The course equips students with solid foundations to optimize business processes and improve the quality of products or services. Many topics are taught, including process mapping, standards, quality control, and continuous improvement," remark the two lecturers. Their idea was to structure it in a way that maximizes the takeaways – "It provides students with valuable skills and knowledge that benefit both themselves and their future employers. Students understand the principles of business processes and can identify how to apply them to products and services in different industries."
In the Business Process aspect of the course, students gain a comprehensive overview of the elements of process models and their precise meanings, they learn to create, read and interpret Business Process Models and Notation diagrams, and to identify bottlenecks, inefficiencies, and other areas for improvement in business processes. Streamlining processes, reducing waste, and improving overall efficiency, appropriately documenting and communicating business processes to stakeholders are all valuable skills to have in today´s business environment.
The Quality Management aspect of the course covers state-of-the-art approaches used to ensure quality within organizations, including ISO 9001, Six Sigma, and Lean. Students master the knowledge to implement these approaches in their future organizations regardless of industry and to ensure high-quality products and services. These skills greatly benefit our students because they are vital in ensuring customer satisfaction, which leads to increased sales and long-term success.
Upon completing the course, LBS students will have developed a deep understanding of the process management lifecycle and gained mastery of the state-of-the-art quality management approaches that are vital in ensuring customer satisfaction and long-term success. It is essential for job-seeking candidates to showcase their know-how in helping "organizations improve their efficiency and competitiveness, which translates into businesses meeting customer expectations, leading to higher levels of customer satisfaction." This, ultimately, is the two lecturers´ main goal for their mentees.