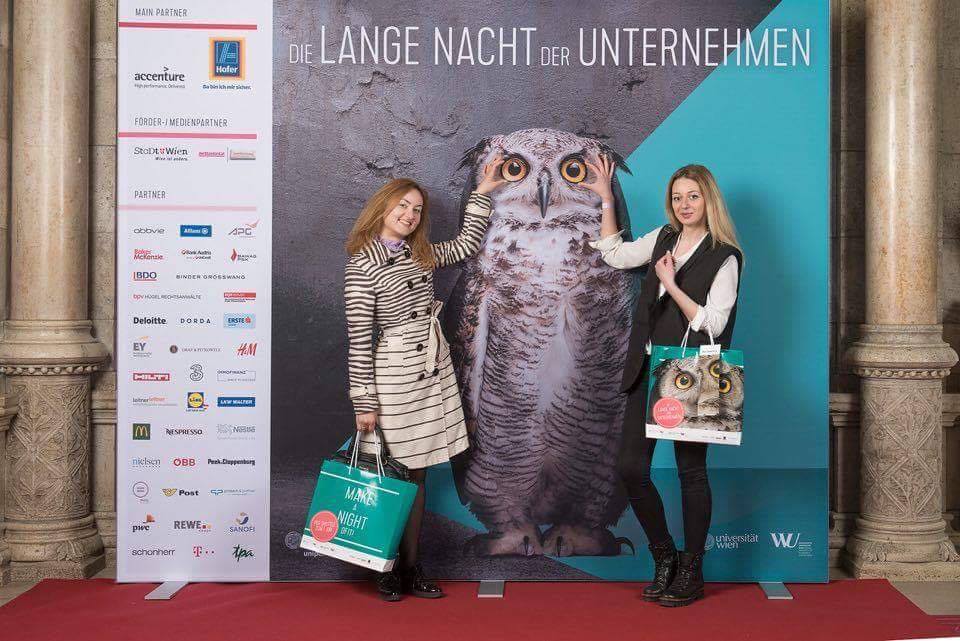 On March 22, LBS students participated in the Long Night of Companies 2017 career event. 40 companies took part in the event this year, opening their doors to interested students. Some of the prominent companies included: Accenture, Allianz, Bank Austria, Deloitte, Erste Group, E&Y, H&M, Lidl, Hofer, Nespresso, Nestle, pwc, REWE international, T-Mobile and many more.
The Long Night of Companies was officially opened at the Rathaus with panel discussions and company stands where students could meet potential future employers and their HR staff. In continuation of the event, shuttle busses brought students to two companies of their choice. Then there was an organized after-party for all participants where they could gather and exchange their experiences.
Some of the LBS students who attended the event were BFC 2016 students Fatima Baraova and Dea Shashiashvili. They are happy to to share their impressions and encourage their classmates to attend the event next year.
Fatima Baraova: "We were very lucky to attend this event. Despite the fact that it was held in German we enjoyed the opportunity to ask questions to companies' representatives and we received all the necessary information in English. We could figure out more about their internship programs and application processes." As for the benefits of attending such events, Baraova continues, "We believe attending events like this one is a great opportunity to meet your potential future employers and see if you would fit into the working atmosphere and company culture."
Dea Shashiashvili: "Events like the Long Night of Companies are crucial for the job-seekers as it provides the possibility to acquire information about the vacancies directly from the HR staff and to get advice on how to be successful in the recruitment process. Also one can find out more about the corporate structure and values and decide whether the particular company matches your interests and skills best. Moreover, this event highlighted the importance of being active and persistent in following your dreams. No matter where you come from, knowledge, skills, and devotion are always appreciated."
The LBS Career Center will keep you up-to-date about next year's Long Night of Companies and similar events!