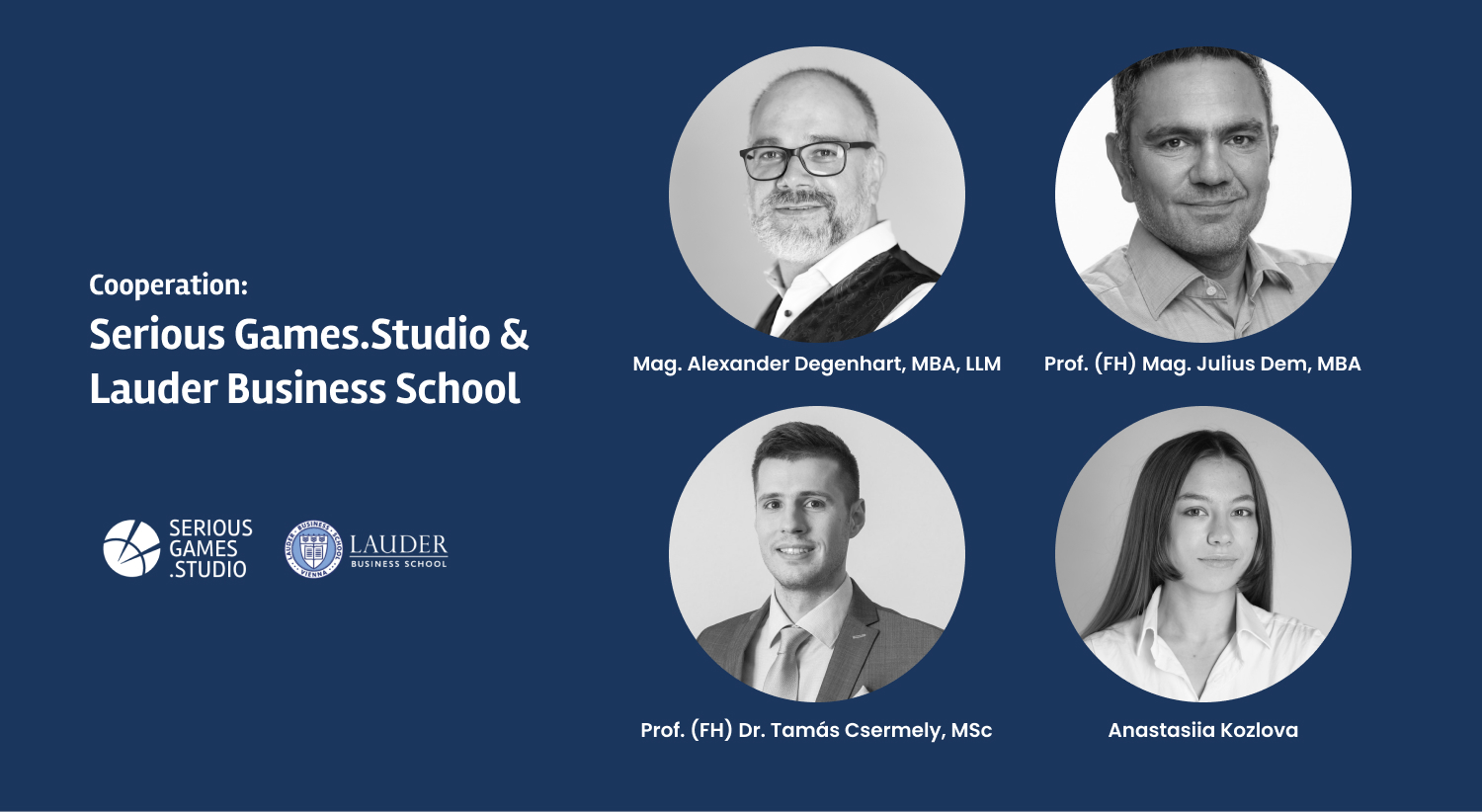 Lauder Business School in cooperation with Serious Games.Studio will develop a proprietary and unique business simulation game to help master students deepen their knowledge and truly master the concepts they study.
When Serious Games.Studio asked us whether we´re game for a serious challenge, we could only reply: "Let´s play!" What better method to add fun to  teaching at LBS than an actual game – a serious game. Our third semester master students are about to experience the fun themselves and get competitive!
The (serious) game plan is the newest addition to the "Student Consultancy Project" course, which aims to train business and management students how to solve potential problems that can appear at a company level with creative flair and know-how. The Lauder Business School team comprised of Prof. (FH) Mag. Julius Dem, MBA, Director of Studies International Business Administration, and Prof. (FH) Dr. Tamás Csermely, MSc Director of Studies: International Management & Leadership and Strategic Finance & Business Analytics, actual game instance managers, will set up the objectives of the game, the tasks and the data model against which the software will score the students.
Throughout the game, student players will have to conquer the 9 quests laid before them in order to save a fictional company and re-align it to meet its intended goals. Grouped into teams of 5, players will get to choose specific roles, and engage in various interactions that will spotlight not only their practical knowledge, but also their soft skills.
Mag. Alexander Degenhart, MBA, LLM, bona fide Game Master and moderator, but also the Chief Executive Officer at SeriousGames.Studio, explains it best: "Since they have such a broad applicability, serious games are real game-changers for consultancy agencies. More agencies like ours use them to train teamwork, and strengthen interpersonal and business dynamics within companies."
Used widely by industries as varied as the defence industry, engineering, health care, business, marketing and even politics, serious games have one mission only: to make serious learning more gamified. Combining rigorous knowledge with game elements, engagement with entertainment, serious games use a challenge-and-rewards system to get players to solve problems creatively, create strategies and anticipate unpredictability.
Master students will get to experiment, take risks, test different strategies to resolve business- and economics-related problems, and get creative in a safe environment. "The safe virtual environment takes away the pressure and allows for a complete immersion in the learning process. Students will get to experiment to their heart´s content without worrying about mistakes and real-life consequences. However, the simulation will be no easy game. It will embed a real-life project´s stages, requirements, and will demand a serious game plan from start to finish," says our Game Master, Mag. Degenhart.
Project-based learning is one of the hallmarks of master studies at LBS, and it is implemented throughout the curriculum. However, this particular project will be a totally different ballgame for LBS university and our master students, as they´ll all be required to bring their A-game!