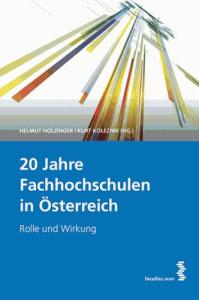 Zirkler, A., & Kübler, E. (2014). Fachhochschulstudium an der internationalen Boutique Business School in Österreich. In Holzinger, H., & Koleznik, K. (Eds.). 20 Jahre Fachhochschulen in Österreich: Rolle und Wirkung (285-289). Vienna: facultas.wuv.
To mark its 20th anniversary, the Fachhochschulkonferenz Austria (FHK; Association of Austrian Universities of Applied Sciences – UAS) has published a book on the role and impact of UAS in the Austrian tertiary education sector. A wide variety of authors shed light on the implementation of applied higher education and its continuous expansion, both quantitatively and qualitatively. The two decades of UAS in Austria can be considered a success story, which is characterized by close cooperation with the business sector, prospering internationalization, student-centered learning methods, and flexible management structures.
20 Jahre Fachhochschulen in Österreich goes well beyond a typical festschrift. Under the heading of UAS 2030, the numerous stakeholders represented in the book envisage future trends and challenges of applied tertiary education and research.
Lauder Business School took a clear stance that it will further pursue boutique business school approach in a highly international environment. LBS is a learning environment where students from all over the world live and work together, where faculty and staff are approachable, and from which a closely knit network of successful alumni and major employers arises. LBS's international boutique setting nurtures tailor-made, customized and future-oriented learning experiences. This positioning blends in well with the founding purpose of Universities of Applied Sciences and, at the same time, makes it a unique offer in Austria.
Please find more details on the publisher's website.