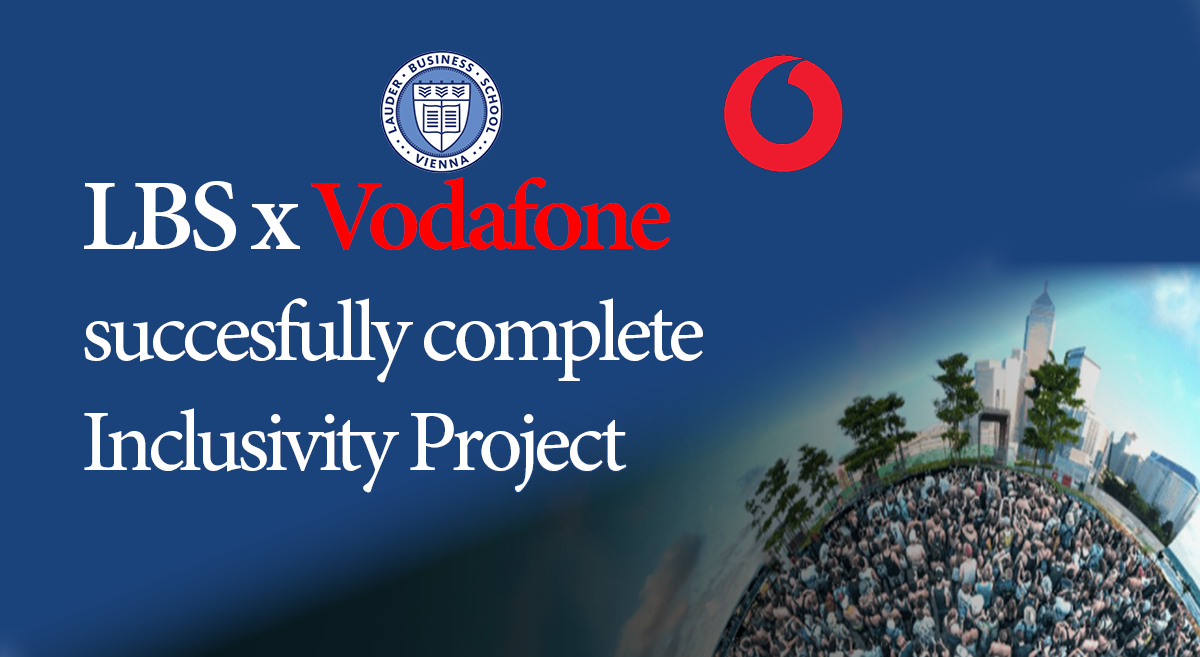 Background photo: Vodafone.de
LBS International Management and Leadership (IML) students successfully concluded a 7-month long consultancy project for Vodafone. Coordinated by distinguished faculty member Dr. Sandra Pauser, M.A., our students delivered key findings, best practices, and recommendations to help Vodafone further improve authenticity, credibility, and inclusivity in their marketing practices.
In the post-pandemic world, it is critical for brands to be authentic, credible and inclusive – representative of our uniquely diverse society. Nowadays, people prefer brands that drive forward conversations of equality, sustainability, and inclusivity. Consumers no longer value brands that promise to only fulfil their needs and quickly gratify their desires. They prefer brands that promote humanistic values, are devoted to human welfare, advance the greater good, and use their profits to drive positive social change.
Great modern brands like Vodafone are aware that they need to align their brand to these values, and walk their talk in order to gain their customers' long-term loyalty. How do they do it? By critically examining their marketing output, analyzing their data, and asking the relevant questions: What does inclusivity look like nowadays? What is acceptable in the context of stereotypes and inclusive representation in advertising? What does successful inclusive marketing and advertising look like? Are there gaps in the current strategy that urgently need to be addressed?
This is where our students put their analytical skills to good use and shone. In this consultancy project, managed by Dr. Pauser, our IML masters got to work in teams, critically analyze these, and many other questions, to assess and evaluate current market trends, gather best practices, and contribute with insightful suggestions to Vodafone´s Brand and Media team. They compiled practical advice for Vodafone to further align their brand to these values and avoid harmful stereotypes in their marketing and created next steps for a more inclusive advertising.
Students had the chance to apply the theoretical concepts they learned in class and offer targeted advice that was appreciated by real world executives. They also had the opportunity to observe team dynamics, learn from their interactions, and receive feedback from senior professionals – a gain both in confidence and professional experience.
We are proud of our students' achievements, and we continue to cheer them on as they continue to thrive.
We would officially like to extend our appreciation to our project partner, Vodafone, for their continued collaboration, and we look forward to working on other exciting projects in the future!