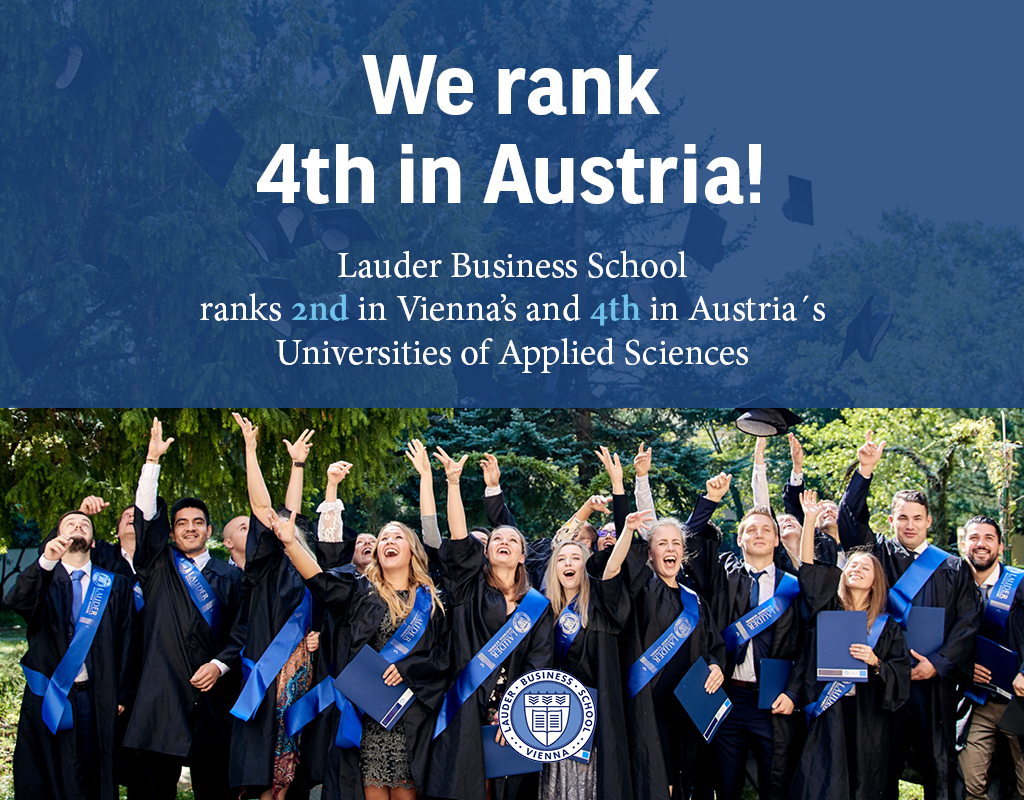 INDUSTRIEMAGAZIN, the leading magazine in Austria for the manufacturing industry, and its service providers, recently released the 2022 ranking of Austria's best Universities of Applied Sciences. We are proud to share that Lauder Business School finds itself in the top tier, ranking fourth out of the 17 universities featured.
This year also marked an unprecedented tight score between the 17 universities selected, as never before have the best tallied so close together.
The categories assessed in the study were, among others, the institution´s grading scale (the best ones scoring the result of 2.0 or more), the number of experienced lecturers, the level of up-to-date practical training offered to students, coupled with a high standard and career-relevant curricula, and the quality of its applied research.
Moreover, given the paradigm shift in education in the latest years, a change reflected in the way technology is used and curriculum is redefined for the online classroom, it comes as no surprise that the study also assessed categories like the quality of online teaching and a practically relevant curriculum. Eighty percent of interviewees agreed that the practical relevance of the curriculum is of utmost importance to young graduates thrust into the workplace. Most study participants stated that one of the perks of attending a university of applied sciences is access to templates and documents that can easily be adapted and used for work. This is due to the fact that university of applied sciences lecturers are either still active in the workforce or have vast practical experience, most at an executive level. Therefore, lecturers tailor their courses to facilitate immediate usability of the acquired knowledge.
The study also presents interesting findings in terms of what recruiters expect from college graduates, the offered entry level salary packages, and whether potential employers prefer graduates of a university of applied sciences, to graduates of traditional universities.
While presently HR managers cannot afford to prefer a certain group over the other, at least for positions which require technical expertise or IT, an astounding twenty percent of companies revealed that graduates of a university of applied sciences earn more within a few years than people with degrees from traditional universities. Not surprising, given that FH graduates have more practical training and adapt more quickly to the pressure and demands of everyday life in the workplace.
In terms of earning opportunities for the two types of graduates, Alexander Zirkler, Executive Director of Lauder Business School, opines that graduates of universities of applied studies have a fundamental advantage. "Traditional universities are a good place for those whose primary interest is in research, " states Mr. Zirkler, "but universities of applied sciences, with their career-oriented teaching approach, put students at an advantage not only in terms of practical experience, but also in terms of income. "
Quoted in the study, Mr Zirkler also points out that Lauder Business School is specially positioned to offer students an added bonus:  "In the fields of business and management, the earning potential of our graduates is excellent. The profound business education combined with strong interpersonal skills applicable in today´s multicultural business climate – acquired on a daily basis in the international environment of LBS – are in high demand on the job market. In addition, I see a strong preference for the field of business with a focus on IT, especially among students from Eastern Europe and Israel, who take on the entrepreneurial path that, if successful, provides a very good income. "
We are encouraged to see the hard work of our students and our distinguished lecturers rewarded in such a way, and we continue to have an optimistic outlook on what the future holds for our university, our current students and our graduates.  The tight results of the study prove that we are not only a worthy adversary to any of our competitors, but also very much up to the challenge of changing business education in Austria for the better.