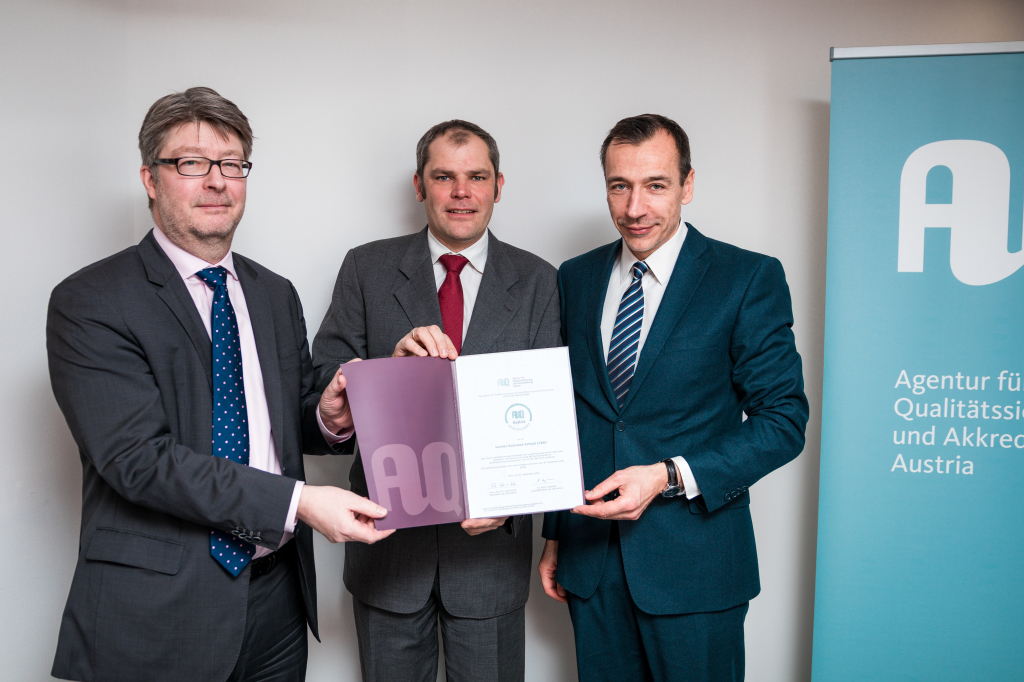 Lauder Business School is very proud to announce that we have been accredited and certified by the Agency for Quality Assurance and Accreditation Austria (AQ). The first preparatory talks with the agency started in 2015 and it took approximately 1.5 years for the procedure to be completed.
This rigorous process is required by the Austrian Federal Ministry of Education for every Higher Education Institution in Austria, involving an external auditing committee (4 auditors from different universities and one student) that reviews and certifies the institution's internal quality management system (QMS).
The expert team analyses four focal points:
Strategy, Goals and Controlling Tools
Contribution of the QMS to the Achievement of the Institution's Goals
Evaluation, Monitoring and Information Systems
Quality Culture and Involvement of Stakeholders
Summarizing the evaluation, the auditing team concluded that there is "a high commitment of all decision-makers at LBS, as well as an excellent information flow at all levels of the organization". It was evaluated that Quality Management processes are not only presented on paper, but systematically put into practice. Furthermore, the implemented information system was praised as being tailored to the needs of the users. Overall, the audits saw "a consistent interest which brings the LBS together and that all departments, the university management, committees, student representatives and study program directors are working together towards the same objectives" (AQ Austria).
The awarded certification proves that Lauder Business School's Quality Management exceeds the country's standards and gives a framework for the institution to provide excellent quality in education and research. For further information about the Agency for Quality Assurance and Accreditation Austria (AQ Austria) please visit https://www.aq.ac.at/en/.