Jeremy Phillips
IP Consultant & Honorary Research Fellow, London
Coca Cola, Harry Potter, Beethoven's Fifth as well as David Bowie, Madonna, and the Beckham couple not only represent well known products and protagonists of popular culture but also striking cases in intellectual property law. Besides his fine British humour, it was these references to global trademarks and non-trademarks which made Jeremy Phillips' talk an extremely vivid introduction to the field of intellectual property rights.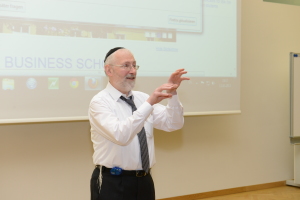 Mr. Phillips has been practicing IP since the 1970s as a consultant to London-based solicitors Olswang LLP. He also served as Honorary Research Fellow at the Intellectual Property Institute, as Professorial Fellow at the Queen Mary IP Institute and as lecturer at the University of Alicante, Spain. A veteran blogger as well as a founding member of the IPKat team, he is heavily involved in IP consultancy work, editing the Journal of Intellectual Property Law & Practice (JIPLP) and the European Trade Mark Reports (ETMR).
During this highly interactive evening, we also learned about tricky cases of protected colours as part of brands, the translation of novels, the encryption of music, and the alleged invasion of privacy by Google Street View. A remarkable observation concerns heirs who, according to Mr. Phillips, are often more particular about enforcing copyrights than the creator.
In short, Jeremy Phillips advised not to take cases to court too readily. Against the backdrop of his longstanding experience he is convinced that IP disputes should be solved around the table as litigation simply wastes money. Another cost-factor is looking after patents. Nevertheless, Mr. Phillips recommended to file early and to file often. Though patent attorneys are expensive, they should be consulted at the early stages of innovation rather than for infringement procedures.
Perhaps the most practical question answered was whether notes taken from Mr. Phillips' highly rewarding lecture and turned into a written piece would violate his intellectual property. Luckily, as it turned out, they would not.