Dr. Danielle Spera, CEO of the Jewish Museum Vienna
On May 8th, 2014 Dr. Danielle Spera, CEO of the Jewish Museum Vienna, graced Lauder Business School with her talk about her astonishing and multifaceted career.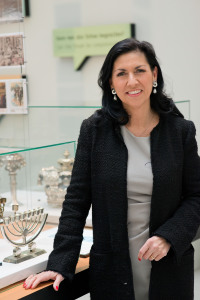 Many Austrians remember Dr. Spera as THE anchorwoman of Zeit im Bild, the Austrian Broadcasting Network's (ORF) prime time news. She presented the latest news, interviewed leaders and decision makers, discussed topics that were and still are significant for our lives, doing so in a preeminently competent and sympathetic way. Dr. Spera literally guided us through the turbulent 1990s and the beginning of the 21stcentury and brought world affairs into our living rooms.
Her talk in the framework of the Lauder Business Forum introduced us to the world of international journalism, its anecdotes and back-ground information working in the epicenter of world politics – the United States, where Dr. Spera worked a correspondent for the Austrian National Broadcaster ORF. Furthermore, she reported from Central America, the Middle East and many more focal points of world affairs.
Always seeking challenges and never shying away from difficult assignments, she eventually accepted the position as CEO of the Jewish Museum Vienna in 2010. There she rejuvenated this particularly important institution, with passion, creativity, spirit and definitely also with her strong identification with Jewish religion and culture. Dr. Spera shared her vision of the Jewish Museum in Vienna as a meeting place and cultural hub, a venue where one can get insight into the past and present of Vienna's Jewish culture and community.