On June 16, 2020 our Head of Research and Senior Lecturer Dr. Christian Reiner was bestowed an FH (Fachhochschule – University of Applied Sciences) professorship title. Dr. Reiner has been a valued member of the Lauder Business School faculty team since 2016 and has led the research agenda ever since.
His fields of interest include regional economics and industrial organization, and his research has added insights into topics such as structural change, growth policy, innovation, human capital mobility, industrial policy, green growth, and policy evaluation.
The award of the FH professorship title is a special distinction for those members of the teaching and research staff who have proved to be particularly qualified through their commitment in various fields. The title is awarded upon fulfillment of formal and qualitative criteria by the LBS Council.
We congratulate Prof. (FH) Dr. Reiner on this bestowal and look forward to continued fruitful future research collaboration.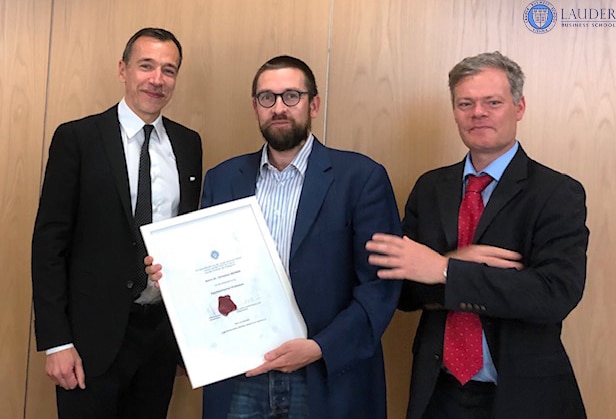 Left to right: Alexander Zirkler (LBS Executive Director), Prof. (FH) Dr. Christian Reiner, Prof. (FH) Dr. Konrad Koloseus, LL.M. (Head of the LBS Council)