Online MBA in Executive Management
Fully Online program (with the optional opportunity to spend the first and last week of studies on our Vienna campus)
∼ 8 h/week online sessions
Comprehensive focus on Management and Leadership
Master of Business Administration (MBA)
The LBS online MBA in Executive Management is a two-year program designed to enhance your professional experience and propel your career forward. With a curriculum centered on real-world practice and taught by professionals leading in their fields, the program is designed with the working professional in mind, offering majors in Green & Sustainable Business Management or International & Digital Marketing.
The program consists of customized, expertly crafted webinars and synchronous online sessions that are designed to be completed entirely online, allowing for parallel full-time employment. It provides specialized analytical know-how and practical knowledge and exposes students to the latest trends and developments on the economic front. LBS MBA students receive advanced and well-rounded executive education in fields as various as economic decision-making, business analysis, leadership skills, agile methods, business strategy, and consulting, and learn to implement their acquired knowledge using modern practical tools such as SAP and Bloomberg.
Students have the opportunity to spend the first and the last week of studies on the LBS campus, connect with peers and lecturers as part of their MBA comprehensive program, take part in a company visit, and expand their network. Aside from receiving an excellent executive education from a Business School with ACBSP- American accredited programs, students joining the LBS online MBA in Executive Management become part of a lifelong supportive international community of professionals and peers – a platform facilitating the exchange of ideas and sharing of best practices, an indispensable asset for an executive career anywhere in the world.
Master New Leadership Skills
Master new leadership skills
and build business acumen
Develop a strategic mindset
Develop a strategic mindset that empowers you to take risks
Expand your competencies
Learn to use modern practical
tools like SAP and Bloomberg
Grow your network
Join our supportive network of professionals and problem solvers
✔ Learn to analyze trends and anticipate them
✔ Convert data into the best business decisions
✔ Develop effective business strategies
✔ Implement analytical techniques using modern tools
✔ Learn to think outside the box
✔ Benefit from flexible studies compatible with work-life balance
Receive an MBA (Master of Business Administration) degree from a boutique Business School with ACBSP-accredited programs
Flexible learning – all classes are online (easily accessible webinars + live sessions and resources)
Real-world practitioners as lecturers
Academic excellence combined with practical projects/deliverables
State-of-the-art and contemporary learning content
In-depth hands-on knowledge in a multitude of fields (marketing, strategy, HR, supply chain, accounting, finance, economics, etc.)
International and interactive learning environment
Major in Green & Sustainable Business Management or International & Digital Marketing
Learn to use various tools (SAP, SAS, Bloomberg) and obtain certificates
Excellent job market statistics
Network of high-potential executives
Tuition fee: € 9,900 – for the entire study program.
Career Profiles
Senior (C-level) Management (Board member, CEO, COO, CFO, CPO, CIO, etc.), Head of Functional Areas (Supply Chain, HR, Marketing, Sales, Business Development, Analytics, etc.)
Academic Format
2/3 of sessions: professionally crafted high-quality webinars;
1/3: live Zoom sessions (predominantly in the afternoon/evening hours according to Vienna time) that are recorded and can be watched subsequently if one cannot attend;
Optional: the very first and very last week of studies and final exams can (but does not have to) be attended on campus. A comprehensive extracurricular program (company visit, sightseeing, hosting, etc.) will be provided.
Program start date: Every September
Program end date: Every July (22 months after the start)
Admission Requirements
completed Bachelor's degree program of at least 180 ECTS + 2 years of professional experience
or a completed Master´s degree
C1 level of English
"My experience at LBS was great and unique! During my studies of "Intercultural Management and Leadership" I received a profound knowledge in the area of my interest and met long-life friends. LBS had a significant impact on my personal development. There I experienced studying and working in a highly international environment, which ultimately defined my career path."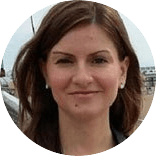 Marina Rowe
Global LT, Recruiter EMEA
"Keep it real 🙂 Study hard and make great friends. Don't shy away from any challenges and try to dream big. Nothing is impossible when you try just a little harder. LBS was a great stepping stone for me and enabled me to achieve great heights in my career later on. I'm humbled to say that it all started in LBS!"

David Koves
R2G Digital, Founder & CEO
"Lauder Business School is where I learned my business ABC's and where I laid the first cornerstones of building my professional network. One of the best memories from studying there would have to be the classes with Prof. Christian Mehlich and the mentorship conversations with him outside the classroom."

Alex Melamed
Microsoft, Marketing Manager
"Lauder Business School Vienna provided me with the practical learning approach, developed using-real life case studies. Those allowed me to look at real business challenges from a CFO / CEO perspective, while being a pragmatic authoritative leader. Also, I had the precious opportunity of being taught by Prof. Joel Stern, which was an absolutely breath-taking experience. One thing I wanted to take away from this program, in addition to the leadership component, was a better understanding of initiating change in today's uncertain financial markets."

David Kralik, M.A.
GE Power Austria, Project Control Analyst