On December 5, 2016, Mag. Judith Reischer gave a lecture as part of the Compliance Practice in Banks course. Since 2012 she has been working for the Austrian Financial Market Authority (FMA) governmental body in the Rules of Conduct and Compliance Division and is currently leading an On-Site-Inspection Team. Mag. Reischer thoroughly explained the work of FMA and especially of her team that uses On Site-Inspections, Company Visits and Management Talks as tools to supervise credit institutions, issuers on the Vienna Stock Exchange, pension funds, insurance companies, etc. FMA's monitoring of compliance with the statutory rules contributes to the overall protection of consumers, investors and creditors, and thereby increases transparency and fairness within the Austrian capital market.
Another guest lecturer,  Mag. Leopold Quell, Senior Fund Manager at Raiffeisen Capital Management and a Certified Portfolio Manager (CPM), visited the Financial Instruments and Trading course on November 21, 2016. He has been a fund manager for 16 years and become a specialist for managing funds in China, Hong Kong, and Taiwan. While lecturing on how to make investment decisions, he shared many interesting facts and his experience from managing funds in these markets. The BFC students were then assigned a task to build an equity portfolio out of Chinese stocks worth €150,000. For this simulation, students were divided into five teams and each team needed to agree on which stocks to select for their portfolio and to present their decisions by the end of the course. Mag. Quell gave his advice for the assignment and wished the students best of luck.
Mag. Reischer and Mag. Kotal with selected students of the BFC class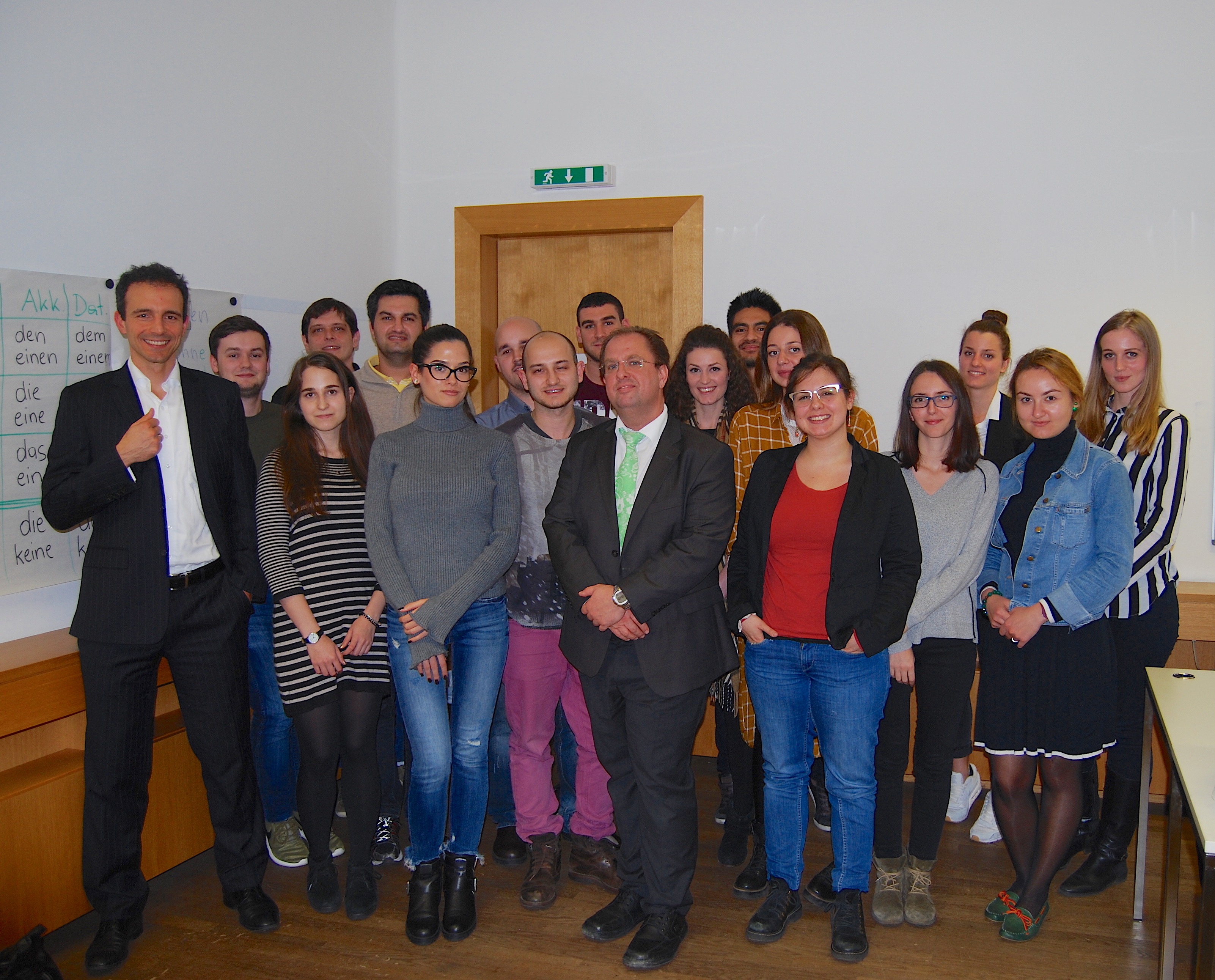 Mag. Quell and Mag. Kotal with selected students of the BFC class
Lauder Business School's students greatly benefited from these visits, gaining valuable insights into the real world of Banking, Finance and Compliance (BFC). They had the possibility to discuss current issues in this field and to raise questions. Lauder Business School will continue to provide many opportunities for students to meet industry experts and to experience classes combined of theoretical input and hands-on practical knowledge.