Prof. (FH) Mag. (FH) Roksela Miha
Erasmus Staff Mobility
12-15 May 2014
"Multiculturalism" today: aspirations, realities and crisis debates
LBS participated at the 3rd conference of the ESREA Network on Migration, Ethnicity, Racism and Xenophobia, which took place at the University of Lower Silesia in Poland.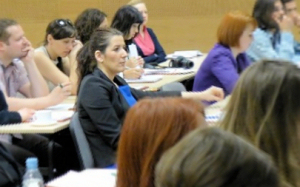 ESREA (European Society for Research on the Education of Adults) promotes and disseminates theoretical and empirical research on the education of adults and adult learning in Europe through research networks, conferences and publications. It provides a Europe-wide forum for all researchers engaged in adult education and learning.
This years' ESREA conference took place in May 2014 at the University of Lower Silesia in Wroclaw, Poland. It focused on analyses, elaboration and further discussions related to the controversial concept of 'Multiculturalism', which thus far has often failed to merge different societies to produce a unified culture while embracing the uniqueness of each individual.
Scholarly research and theoretical reflections from a range of areas including educational institutions, media and politics, community and family, civil society groups and organizations presented possibly reliable ways to further develop an understanding of the concept of 'Multiculturalism' and its changing conditions while envisioning a more inclusive future for all.
Moreover, the participants from over 20 European and non-European countries sought for answers as how to best understand and practice the multiculturalism condition. Furthermore the papers asked for opportunities and aspirations as well as for failures, traps and various ways of thinking intercultural challenges in higher education and adult learning.
Valuing intercultural relations within a diverse faculty and student body is one of the most striking features of Lauder Business School. In this context, Prof. (FH) Mag. (FH) Roksela Miha presented a paper on the application of diversity workshops in higher education institutions at this years' ESREA conference. These workshops, which were developed as part of the recently concluded Mobiliversity project, aim at creating inclusive excellence. Classrooms, workplaces and communities are becoming increasingly diverse and therefore learning to effectively interact with dissimilar individuals, while understanding, valuing and embracing differences, is essential for members of organizations and higher education institutions as such. To sustain and master skills and competencies, developing attitudes, building knowledge on the significance and strength of diversity, requires further education and making effective use of diversity trainings and/or workshops.
Roksela Miha's participation at ESREA gained her and LBS invaluable insight knowledge on how other international higher education institutions are innovatively addressing diversity. What is more, taking part in an ESREA event at the University of Lower Silesia was an outstanding opportunity to (a) increase contacts with other renowned actors in HEI diversity management, and to (b) get to better know a Polish university for potential future collaboration.