Lights, camera, action!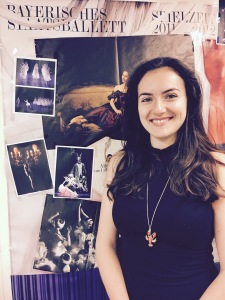 The Bavarian State Ballet counts as one of the most influential ballet ensembles on the international dance scene. Annually, dancers from all over the world join the ensemble and perform a broad repertoire composed by the ballet director.
During 5- months of my internship, I have been working for the Bavarian State Ballet in the ballet direction. The ballet direction consists of 7 employees and 3-4 interns who work in different areas such as press, marketing, administration and disposition/tours/rehearsal planning. My job consisted of coordinating the administration and production management. Since I was raised bilingually (Russian and German), Russian was the main language of communication with the director and the dancers. Moreover, I was the direct link between the administration and the dancers. The intercultural and psychological knowledge that LBS provided me with, truly helped to understand the cultural differences and attitudes.
Living in Munich has proven to be an exciting and wonderful experience. People from all over the world are here, enjoying the melting pot of cultures and ideas. Together with the other interns we explored the exciting life in Munich. During the internship we worked, we laughed and we cried (only tears of joy). In fact, it was fantastic to get to know so many interesting people who have a different vision of the world.
Fortunately, my position as an intern was extended for another half- year term. Starting in September, my role will grow from merely managing administrative matters to additionally taking on the responsibility of running the auditions. As such, I will have direct contact with potential ballet dancers.
The work enriched my skills as a professional and made me a more focused and mature person. Moreover, working in a culturally enriching environment like the State Opera has brought me the kind of joy that is hard to find in the working world.
I would recommend the Erasmus+ program to every LBS student because it is a life time experience where you start to understand your goals in life and your personality.