On December 13, 2017, Mag. Judith Reischer gave a lecture as part of the Compliance Practice in Banks course. Working for the Austrian Financial Market Authority (FMA) governmental body in the Rules of Conduct and Compliance Division, she is currently Head of the On-Site-Inspection Team. Mag. Reischer thoroughly explained the work of FMA and especially of her team, which uses on-site inspections, company visits and management talks as tools to supervise credit institutions, issuers on the Vienna Stock Exchange, pension funds, insurance companies, etc. FMA's monitoring of compliance with the statutory rules contributes to the overall protection of consumers, investors and creditors, and thereby increases transparency and fairness within the Austrian capital market.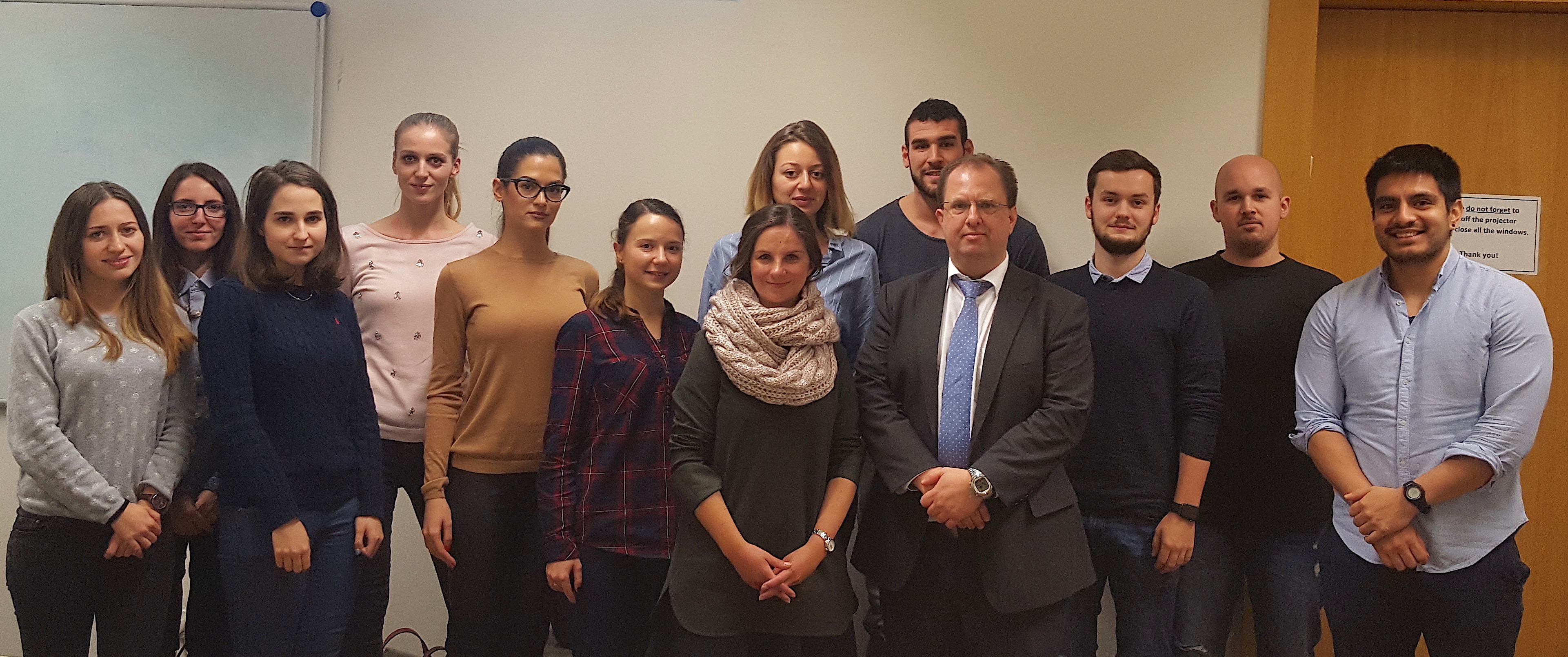 Mag. Judith Reischer and Ing. Mag. Robert Kotal CFP®EFA® with BFC2016
Moreover, as part of the same course and while covering the topic of whistleblowing, our students had the chance to skype with Rudolf Elmer,  who is a former employee of a Swiss private bank in the role of compliance officer in the Cayman Islands for eight years. He came to prominence as a whistleblower in 2008 when he gave secret documents to WikiLeaks detailing the activities. After watching the movie "Elmer and the Swiss bank secrecy", Mr. Elmer explained the offshore business in general and the delicate situation of being a whistleblower. The students discussed various issues and even quite private and emotional aspects with Mr. Elmer.
Another guest lecturer, Mag. Leopold Quell, Senior Fund Manager at Raiffeisen Capital Management and a Certified Portfolio Manager (CPM), visited the Financial Instruments and Trading course on November 27, 2017. He has been a fund manager for 17 years and has become specialist for managing funds in China, Hong Kong, and Taiwan. While lecturing on how to make investment decisions, he shared many interesting facts as well as his experience in managing funds in these markets. The BFC students were then assigned a task to build a simulated equity portfolio out of Chinese stocks worth €150,000.
For this simulation, students were divided into three teams and each team needed to agree on which stocks to select for their portfolio and to present their decisions by the end of the course. Mag. Quell gave his advice for the assignment and wished the students best of luck.
Lauder Business School lecturers strive hard to make their classes interactive and inspiring. We are always happy to welcome experts from a variety of fields to contribute their knowledge and enrich our curricula with their experiences and expertise.